---
La Tolita culture, Ecuador, c. 200 AD. Nice terracotta maskette. Highly detailed with good burnished surfaces. Intact with good age deposits, nice style and fine detail overall. Measures 2 3/4" (7 cm). Minor chipping on bottom. Mounted on custom stand. See Labbe, "
Columbia Before Columbus
" for similar example. Ex East Coast collection. #1210358-1: $325 SOLD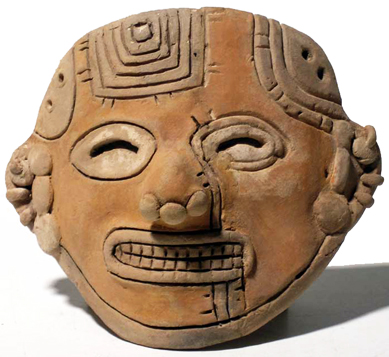 La Tolita, Ecuador, c. 500 BC - 300 AD. Superb terracotta maskette! Deeply incised with a variety of intricate designs. The individual is lavishly adorned with multiple nose ornaments and complex ear ornaments. 4 1/2". Nice color - strong pigment remains. Fantastic! Ex East Coast collection. #0611329: $550 SOLD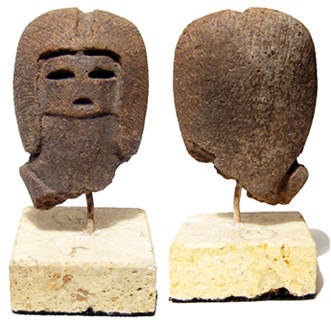 Valdivia culture, Ecuador, c. 3500 - 2000 BC. Excellent and rare terracotta head from a "Venus" type figure. The hair is parted at center and lightly incised, the eyes and mouth indicated by perforations. H: 2 1/4" (5.8 cm) with nice reddish-brown color. Mounted on a base. ex-Midwest USA scholastic collection; ex-Arte Xibalba, Florida, acquired from the collection of Silvana Pagani, Santa Fe, NM. #PR2004: $325 SOLD
---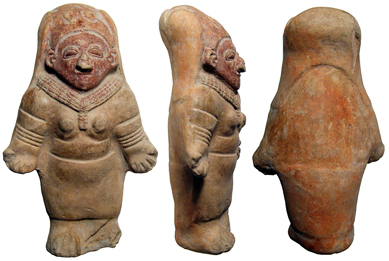 Jamacoaque, Ecuador, c. 400-200 BC. Attractive Jamacoaque terracotta female figure, wearing a large headdress, armlets and a necklace. Red pigment remains on the face. Minor chipping to left foot, otherwise intact and nicely detailed. 115 mm (4 1/2") tall. Ex Los Angeles private collection. #272001: $350 SOLD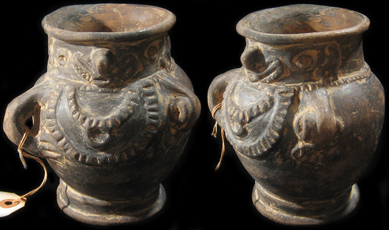 Colombia, Tairona culture, 1st-11th century AD. Elaborately decorated figural jar. 5 1/2 inches tall x 4 1/2 inches wide. A charming piece with lots of character! #1238: $299 SOLD
---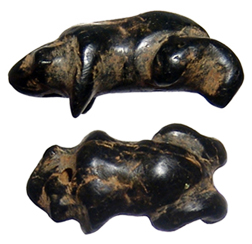 Sinu Culture, Colombia, c. 200 - 700 AD. Beautiful frog amulet. Carved from a black stone and holed through the head for suspension. L: 1 1/4" (3.2 cm). Ex D.M. Estate, Pennsylvania; Ex East Coast collection. Very attractive! #A11382-1: $199 SOLD
---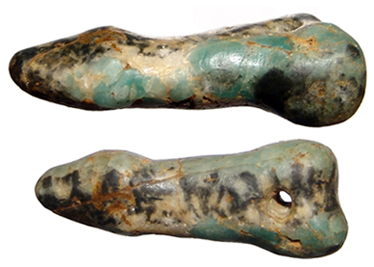 Sinu Culture, Colombia, c. 200 - 700 AD. Interesting phallic amulet carved from a green beryl (Emerald) matrix. Suspension hole at base. L: 1 3/4" (4.5 cm). Ex D.M. Estate, Pennsylvania; Ex East Coast collection. #A11382-2: $199 SOLD
---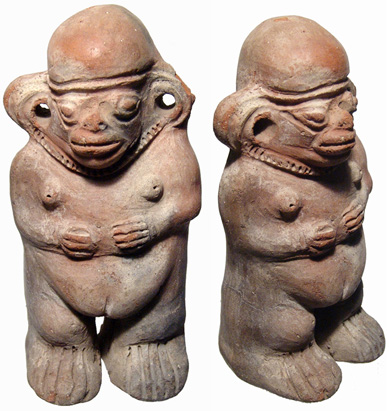 Lambayeque female from Peru, ca. 700 - 1300 AD. Large piece weavily detailed with big feet, large belly, small breasts, bead necklace, nicely detailed face and large hollow earspools in ears. Very thick and sturdy construction. Stands 158 mm (6 1/8") tall. #271036: $250 SOLD
---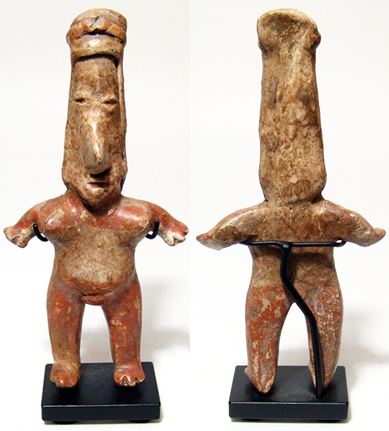 Jalisco, Mexico, 200 BC - 350 AD. Gorgeous little figure of a woman with characteristic tall and narrow head and short arms. An attractive piece with well-preserved tan and orange slip. H: 4 1/2" (11.4 cm). Right arm reattached. Mounted on a custom base. Ex Northern California private collection. #A13335: $375 SOLD
---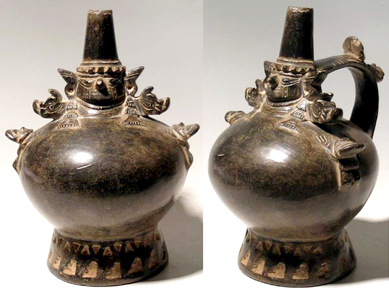 Excellent Naymlap bottle from Lambayeque (Sican), Peru, c. 700 - 1300 AD. Depicts the primary deity Naymlap, with protruding serpent heads, flanked by a pair of his children and an additional confronted pair of the handle. Nice base with incised designs. The step forms represent terraced fields. Intact, with good mineral deposits and trails. 8-1/4" high. Ex-collection Joseph Espinoza, Toronto, Canada. *
Naymlap was the founder of the Lambayeque people. Lore has it that he arrived with a group of travelers from across the sea, landing at the mouth of what is now called the Lambayeque River and from there populated the valley. The people thrived and prospered greatly under his rule and upon his death he was deified. On the face of Naymlap, the vertical lines are his tears, which are the rains that bring fertility to the valley.
#861N204: SOLD
---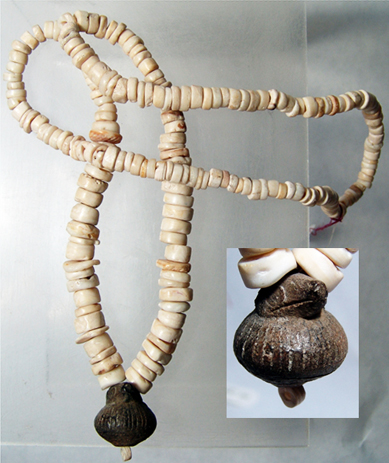 Sinu culture, Colombia, 1000 - 1500 AD.
Lovely 24" strand of matching white shell beads with zoomorphic pendant depicting a coatimundi. Nicely strung and wearable! Ex Florida collection. #skkx250: $225 SOLD?
---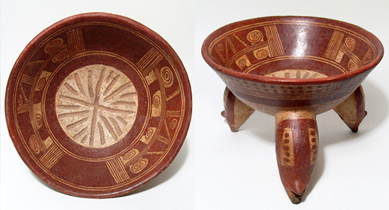 Mixtec, Central/West Mexico, c. 1000-1500 AD. Very nice large molcajete (grinding dish) tripod vessel. With three ovoid feet with rattles, each with a protrusion near the base with hole below, another hole on the back of each near center. The bowl is finely decorated inside with a central white medallion containing radiating incised lines from a central cruciform, a band of well-painted geometric devices to each side. On the outside of the bowl are two long rectangular panels containing lines and dots. H: 5 1/2" (14 cm); W: 8" (20.3 cm). Feet reattached and area on bowl near one foot repaired. Paint is strong with light deposits. A very attractive piece! Ex New Mexico private collection, acquired in the 1950's. #PR2011x2: $750 SOLD
---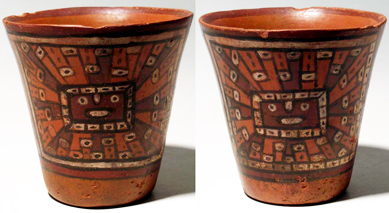 Huari, ancient Peru, c. 650 - 800 AD. Gorgeous polychrome kero. The body heavily decorated with painted designs with two depictions of a Solar deity. 4-1/2" tall. Intact, some small rim chips. Stands nicely on its own. ex-Gallatin, TX private collection; ex-Arte Xibalba, FL. #PR2067: $550 SOLD
---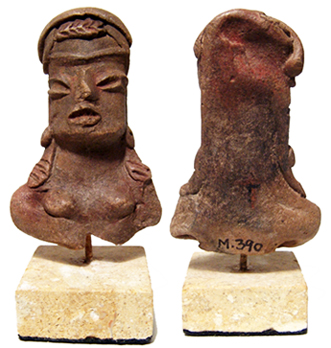 Tlatilco culture, Mexico, c. 1500-1000 BC. Choice detailed terracotta head of a woman. Nicely modeled, shown wearing a headdress and ear spools. H: 3 1/4" (8.3 cm). Nice reddish-brown color, old excavation tag in ink on back. Mounted on a base. ex-Midwest USA scholastic collection; ex-Arte Xibalba, Florida. From the estate of Pablo Bush Romero, St. Petersburg, FL, collected in Mexico City in the 1940's. #PR2005: $325 SOLD