Ancient/Pre-Columbian Artifacts:
Chancay Civilization, Peru, 1100--1450 AD
---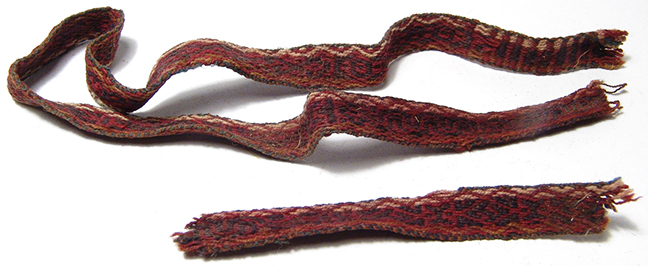 Chancay, Peru, c. 1100-1450 AD. Lovely long textile sash. Intricately-woven colorful decorations throughout. One piece detached, but remarkably well-preserved and still quite flexible and soft! Total length (including detached piece): 51 cm (19 1/2 inches).
Ex-East Coast USA private collection. #PR2246: $299
---
Every item comes with a
100% Lifetime Guarantee of Authenticity.
To make a purchase, or for more information, CLICK HERE
All contents (C) 2003-2017 AD. All rights reserved.
Owned, Operated, and Obsessed Upon by Gabriel Vandervort.
Reproduction without permission is prohibited.
Related search topics: ancient Chancay culture artifacts for sale, Chancay fabric textiles, ancient coca bags, ancient Peruvian baskets, ancient Inca Peru basket artifacts, Chancay Peru sewing basket for sale, Los Angeles California USA