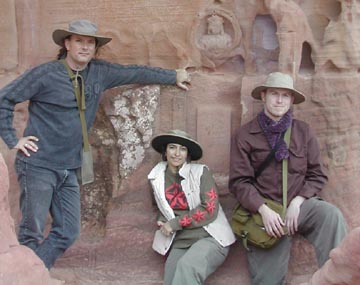 That's me on the right.
Kelly's at left and Michelle's in the middle.
Nice cliffside spot at Petra, Jordan.
In late 2004, I set off on a month-long expedition through Egypt and Jordan with my two good friends Kelly and Michelle Ramage.
Every day was an adventure-- we avoided the "beaten path" and overly-touristed locations and instead stuck to ancient maps and writings to find our destinations.
We roamed the vast Sahara Desert where ancient cities and temples once stood, discovered tombs where the mummies still lay upon their burial slabs, lived in tents with Bedouins who guided us through their discoveries, and rode by horse and donkey through the cliffs of Petra, Jordan-- in my opinion the most beautiful place on earth.
See my travelogues and photo gallery from the trip!
1. Cairo and Giza
2. Aswan and Upper Egypt
3. Luxor and Karnak
4. Valley of the Kings and Amarna
5. Alexandria
6. Siwa Oasis and the Mountain of the Dead
7. Petra and Wadi Rum, Jordan