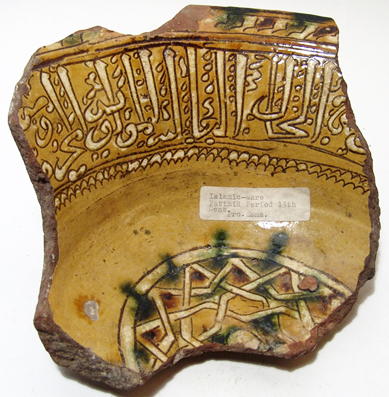 Islamic Egypt. Fatimid Dynasty, c. 13th Century AD. Very large glazed pottery fragment, with partial inscription and geometric decoration in white, brown and green over a tan ground. 7 1/2" x 8 1/4" (19.1 x 21 cm). Ex Dr. Gilles collection, Germany, acquired in the 1950's-60's. An awesome display-piece! #1011306: $525 SOLD
---
Medieval Islamic Hand-Grenade!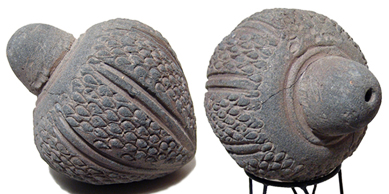 Time of the Crusades, Holy Land, c. 6th - 9th Century AD. Choice very large Islamic-period grey ware hand grenade! The body with stylized bands with what resembles seeds from a pomegranate, parallel grooves between each. Domed top with opening for flammable liquid and wick. H: 5 1/8" (13 cm). Intact , minor age crack. A beautiful example! Ex Orange County private collection. #A15176x2: $799 SOLD
---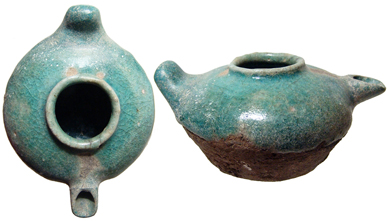 Ancient Islamic / Arabic, 10th - 12th Century AD. Fantastic Islamic glazed ceramic oil lamp, with circular body and small rounded spout and handle. L: 4 in (10.2 cm). Gorgeous blue-green color! Intact and well-preserved. ex-J. Rilling private collection, Orange County, CA. #AH2039: $299 SOLD
---
Early New Testament Verses
Written in Arabic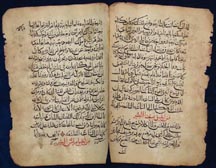 ---
SPECIAL:
A superb Christian Book of Prayers from early 17th Century,
Written in Arabic!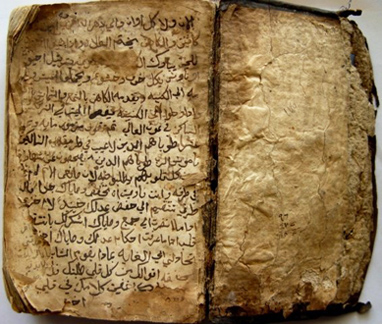 ---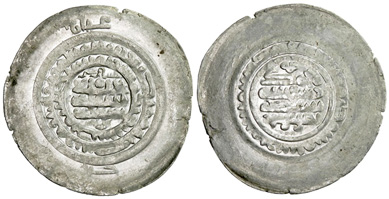 Islamic Iran, Samanid Dynasty. Nasr II, 914-943 AD. Huge silver multiple dirham, [Ma'dan], ND mint. 'ayyar / khayr in obverse margin, hasbi rabbi above obverse field. Massive 42 mm, 6.02g. ref: A-1450, SNAT-384 (same dies!) Bold strike, lustrous EF, Rare! ex-Stephen Album collection. #CP2024: $450 SOLD
---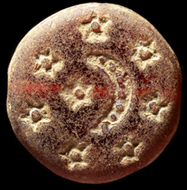 Islamic, c. 14th-16th century AD. Lovely small red glass ring stone. Each side with a central crescent and star, surrounded by 7 stars. Dia: 12.5 mm (1/2 inch). Holed through for suspension. Light earthen deposits. Ex Los Angeles private collection. #AP2124: $95 SOLD
---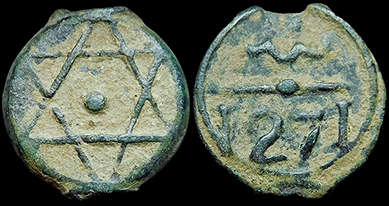 Morocco, 1271 A.H. (1855 AD). Reign of Moulay 'Abd al-Rahman (1822-1859 AD). Cast copper falus. Seal of Solomon / Mint and date. 19 mm, 4.23 g. Catalog reference: KM 122b.1. Olive-green patina with earthen deposits. Nicer than photo! #CP2208: $99 SOLD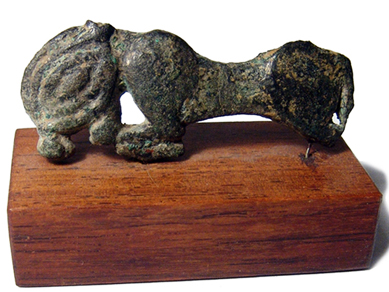 Seljuk Turks, c. 12th - 13th Century AD. Time of the Crusades. Bronze ornament in the form of a stylized goat, with large almond eyes. Some loss to back legs, but an attractive and scarce piece. L: 2 1/2" (6.3 cm). Mounted on base. Much nicer in-hand than photo allows. Royal Athena Galleries, New York. #272109x2: $225 SOLD
---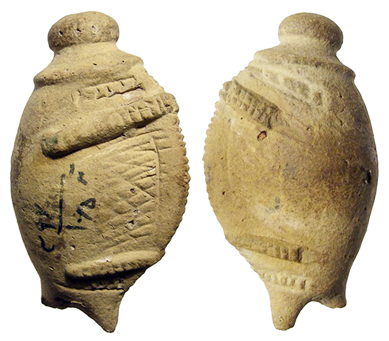 Ancient Islamic grenade! Near East, Islamic Period, c. 7th-9th Century AD. A terracotta 'grenade' in the form of a stylized fish. The body of the weapon has a fin-like backside and a small tail, raised and incised bands with rippling decorate the back. The lip is very thick with a narrow neck to tie a stopper. Intact, light yellowish earthen slip with some Arabic markings on one side. 3 7/8" (10 cm) long. Ex Henk Huffener 19th Century collection, UK. #0411149: $599 SOLD
---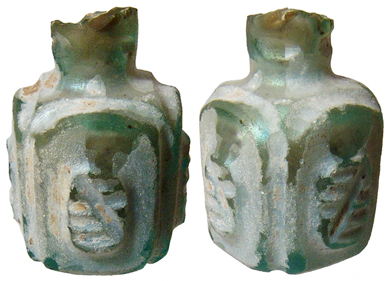 Ancient Islamic, c. 7th-9th century AD. Molded blue glass jar. Round foot and top, but sides squared off with panels on each side. Each panel has a central oval "shield" detail with linear designs. Intact but with losses to neck and mouth. Bright white iridescent encrustation. 35 mm (1 3/8") tall. #901264: $175 SOLD
---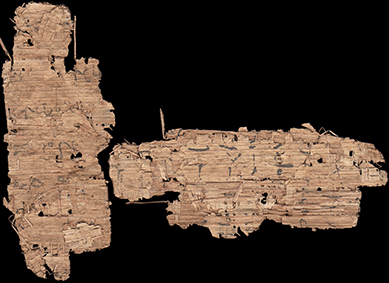 Large Islamic papyrus scroll fragment. Holy Land, c. 6th-7th century AD. Written in Arabic calligraphic script. H: 63 mm
(2 1/2"). Characters on both sides! Ex-Tom Cederlind Estate, Portland, OR. #AH2212: $350 SOLD