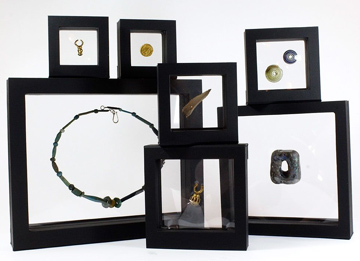 This is the most exciting thing to come along in years. Elegant frames that easily open and close with a magnetic clasp, and cradle valuable artifacts in seemingly suspended space.
For years I've desperately searched for a classy way to display artifacts and coins. Standard glass picture frames are not safe for 3-dimensional items, and shadow-boxes require pieces to be affixed to the back, making them difficult to access and enjoy.
A dear friend came up with this ingenious solution and I owe her a great debt of gratitude.
Each frame box is made of high quality materials. The lightweight, anti-corroding, and extremely durable framework houses a space-age archival clear film that is incredibly strong yet flexible, protecting the valuable contents from corrosion, abrasion, moisture and dust. It is completely transparent, giving the illusion that the item is suspended in air. Its high-grade magnetic clasp holds firmly, yet is easy to open, protecting the valuable contents yet making them easily accessible with the snap of a finger.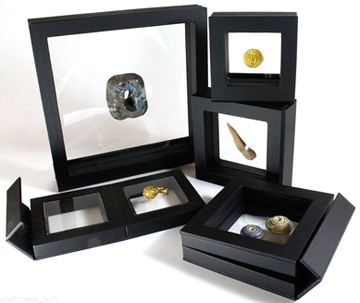 These frames are ideal for coins, amulets, jewelry, arrowheads, seals, statuettes, crosses, and even larger objects like ushabtis, cuneiform tablets... the list goes on!
There are several box sizes to choose from:
#SPSRF. Single Ring Frame:
3 1/8" x 1 3/8" x 3 1/8" (8cm x 3.5cm x 8cm): $25.00

#SPPTF. Pendant Frame:
4" x 1 3/8" x 4" (10 cm x 3.5cm x 10 cm): $30.00
#SPLPB. Large Pendant Box:
5 1/8" x 1 3/8" x 5 1/8" (13 cm x 3.5cm x 13cm): $40.00
#SPPLF. Pearl Frame:
7 1/8" x 1 3/8" x 7 1/8" (18.2 cm x 3.5cm x 18.2 cm): $50.00

#SPLB: Large Box:
10 5/8" x 1 3/8" x 8 7/8" (26.5 cm x 3.5cm x 22 cm): $60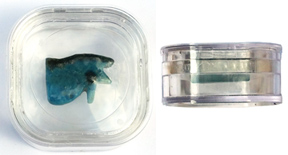 And for smaller items such as small coins, amulets, rings, intaglios and seals, I have wonderful display boxes that are absolutely perfect. These small 2-part clear display capsules are embedded with the same space-age protective film as the larger box frames, protecting valuable items while displaying them crystal clearly as if suspended in midair.
These measure 1 1/2" x 1 1/2" wide, and 3/4" deep.
#SPCB. Clear Box: $8.00 each SOLD OUT