Celtic bronze fibula. La Tene, 5th-3rd century BC. Danube River area. Fabulous example with great brassy to green patina. Spring and all parts still intact! Measures 31 mm long. #uy22: $85 SOLD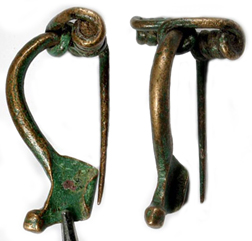 ---
Ancient Celtic Britain.
Crescent-shaped horse decoration. Dates to 100 BC-130 AD, during the period of Julius Caesar's invasion of England to Hadrian and his wall. Found in Northern England. 66 mm tall. #002: $150 sold
---
Ancient Celtic iron "spectacle" or
Brillen
type fibula
Huge Celtic fibula / toga pin, c.10th - 8th Century BC. Comprised of a single wire formed into two horizontal spirals, each with eight turns, with simple pin and catch. Measures 3 1/8" (7.9 cm) long. Intact with orange oxide patina. Ex. German collection. Fantastic, large piece! Great for display. #spec109: $375 SOLD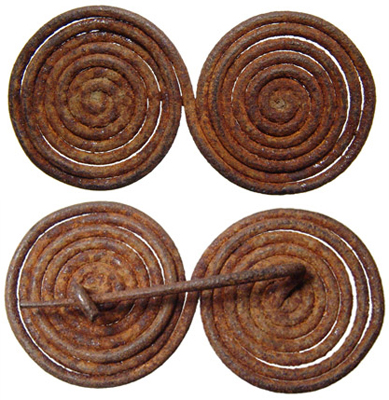 ---
Celtic Ireland! Amazing silver lunula (crescent) pendant, 5th-2nd century BC. The lunula was a representation of the moon and variations have been recorded in finds all over Ireland. Many are held at the National Museum of Ireland and at the British Museum in London. This specimen comes from a private German collection. It was made of a hammered crescent-shaped sheet of silver and fastened with a single silver loop. A beautiful little piece! Measures 25x25 mm (1x1"). ref: G Coffey xxvii p252, Macalister pp31-33.
#lun3715: $275 SOLD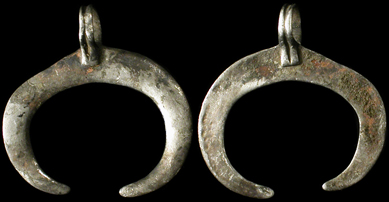 ---
Ancient Celtic Britain, c. 2nd Century AD. Gorgeous inlaid plate brooch in the form of an axe. The bronze with a deep green patina contrasting nicely with the deep blue enamel. Traces of yellow, orange and reddish-brown enamel evident as well. A nice and scarce example found in the Burnham Market region England. 1 1/8" (2.8cm). Well-preserved, lacking pin as typical. Ex Florida private collection. #AC2015: $399 SOLD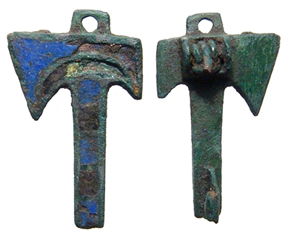 ---
Celtic Gaul, c. 1st century BC. Bronze "wheel money".
Four-spoked wheel. 15.4 mm, 1.70 g. ref: Victoor IX-2b.
VF, blue-gray patina. Nice for the type! #CC2004: $199 SOLD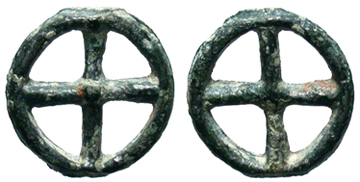 ---
Romano-Celtic, c. 2nd-1st century BC. Beautiful small bronze crescent amulet. Raised circular and pellet design, traces of original blue and white enamel on surfaces. 19.5 mm (3/4"), intact! ex-Los Angeles, CA private collection. #AR2138: $199 SOLD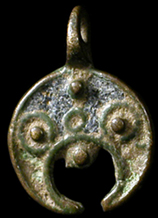 ---
Ancient Celtic-Roman (Romano-British), c. 3rd-4th century AD. Beautiful bronze strap-end with "Tortworth" incised decoration. 75 mm (3") long. Retains its original metal rivet. Gorgeous olive-green patina. Found near Wotton-under-Edge, in Gloucestershire, UK in the 1960's. Mounted on old illustrated wood collector card. Ex-Harold Whitaker estate. A nice display piece! #AR2344: $250 SOLD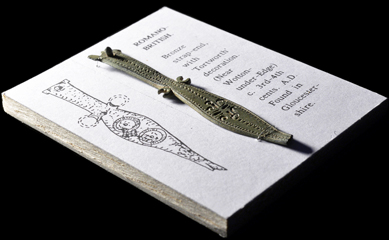 ---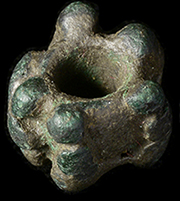 Ancient Celtic Tribes, c. 5th-3rd century AD. Small bronze "multi-knot" ring currency. 13 mm (5/8"); 10 mm (3/8") thick. Dark green patina with light earthen deposits. ex-OR collection. #CC2035: $99 SOLD
---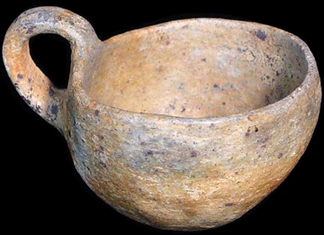 Ancient Celtic. Central Europe, 3rd-2nd millennium BC. Fine early Celtic Bronze Age ceramic drinking cup. Nicely formed with rounded base and small loop handle. 3 1/4" x 2 3/4". Rare! Ex-European museum deaccession; ex-Edgar L Owen. #AC2014: $325 SOLD
---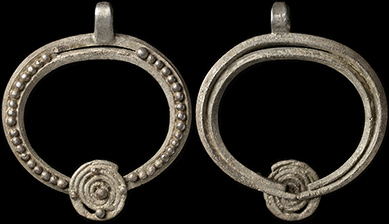 Ancient Celtic Europe, c. 500 BC. Incredible Celtic silver lunate pendant! An intricate silver pendant in the form of a crescent moon, with inlaid spiral design and ridge of small round silver elements, mounting loop on top. A marvel of ancient silverwork. A stunning and wearable piece of ancient art! 29mm (1 1/8") diameter. Found at an ancient site near the Danube River, Eastern Europe. ex-Los Angeles, Ca private collection. #AR2964: $650 SOLD
---
Ancient Celtic Shaving Razor! c. 8th-6th century BC.
Rare Bronze Age 'Hallstatt Type' razor. Rounded blade with wide shoulders, triangular-section rod handle pierced for suspension. The rounded edges are worked to a very fine blade. 47x40 mm (1 7/8" x 1 9/16"). Reference: Murawski, P.G.
Benet's Artefacts of England and the United Kingdom
, Ely, 2003 p.47 item B14-0603. Very fine condition, olive-green patina with earthen deposits.
Ex-old English collection. #AC2023: $375 SOLD
---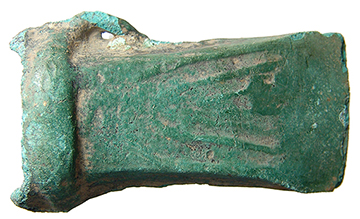 Celtic, c. 5th - 3rd Century BC. Beautiful Danubian Celtic bronze axe head. With side loop, either side decorated with three vertical lines; casting flanged on sides. L: 2 7/8" (7.3 cm). Nicely patinated. Found at an ancient site near the Danube River, Eastern Europe. Ex Los Angeles private collection. Gorgeous green patina! #AC2067: $399 SOLD
---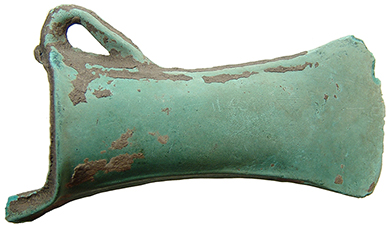 Ancient Celtic, c. 800 - 550 BC. A fantastic and nicely patinated Celtic bronze axe from Central Europe. Cast with ovoid socket, the blade with shallow grooves on either side. The end is flared with lightly rounded cutting edge; single loop at one side. L: 4 3/8 in (11.1 cm). Beautifully patinated. Ex South German private collection. #AC2169: $650 SOLD