---
Celtic Spain. Castulo tribes of Iberia, c. 200-50 BC. Bronze quadrantes. Diademed youthful male portrait rt / Bull standing r., crescent moon above. Great bull, lots of character! Uncleaned, as found. 12x15 mm. #4277: $60 SOLD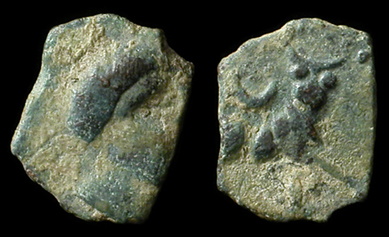 ---
Ancient Celtic silver drachm "of" Alexander the Great, 332-323 BC. Head of Herakles rt, in lion-skin headdress / Zeus enthroned left, holding eagle and scepter, monogram beside. No inscription! An absolutely gorgeous depiction of the Greek god Zeus. 17 mm. #122: $175 SOLD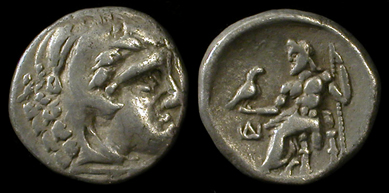 Celtic Spain. Castulo tribes of Iberia, c. 200-50 BC. Bronze quadrantes. Diademed youthful male portrait rt / Bull standing r., crescent moon above. Great stylistic representation! Nice detail and olive-green patina. 17x15 mm. #4268: $95 SOLD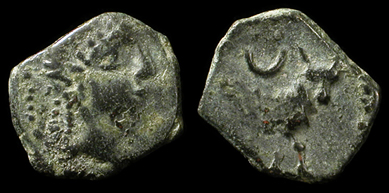 ---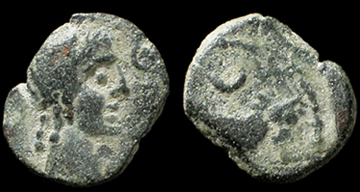 Celtic Spain. Castulo tribes of Iberia, c. 200-50 BC. Bronze quadrantes. Diademed youthful male portrait rt / Bull standing rt., crescent moon above. 19x15 mm, 3.93 g. Great bull, lots of character! Uncleaned, as found. #CC2001: $75 SOLD
---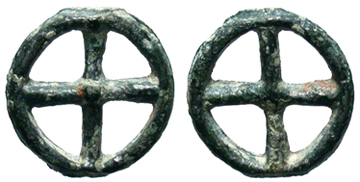 Celtic Gaul, c. 1st century BC. Bronze "wheel money".
Four-spoked wheel. 15.4 mm, 1.70 g. ref: Victoor IX-2b.
VF, blue-gray patina. Nice for the type! #CC2004: $199 SOLD
---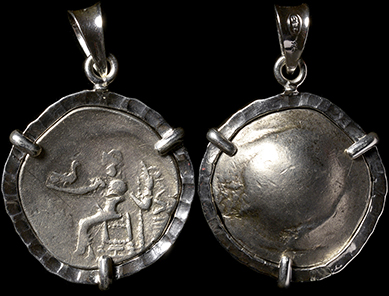 Ancient Celtic Tribes, c. Late 4th century BC. Great large Celtic silver tetradrachm, set into a stunning custom .925 silver bezel. A Celtic type imitating a tetradrachm of Philip III of Macedon, 323-317 BC. Celticized Zeus enthroned left, holding eagle & scepter, Garbled Celtic inscription to right / A bulbous blob indicating the head of Herakles (on the original Greek version). A neat coin, almost cup-shaped. Coin F-VF or better, good bright silver. 34 mm diameter, weighs 17.55 grams (total). ex-Frank S. Robinson, Albany, NY. #CC2047: $325 SOLD
---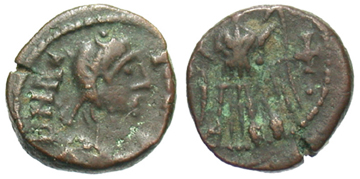 Vandals!
Pseudo-Imperial coinage, c. 440-490 AD. Bronze nummus, possibly Carthage mint. Laureate and draped bust right / Victory advancing left, holding wreath and palm branch; cross in right field. 10.0 mm, 0.85 g. ref: BMC Vandals 21-31. F/VF, chocolate-brown patina & light earthen green deposits. Incredibly nice for these! #CC2003: $125 SOLD
---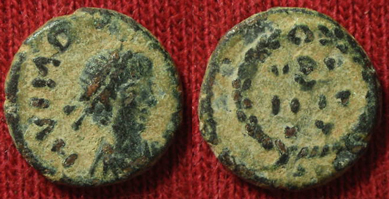 Vandals!
Early 5th Century AD.
Vandal imitation of a late Roman small bronze coin. Bust of ruler right, garbled inscription around / inscription within wreath. Tiny 10.5 mm, 0.82 g. Rare and very nice for the type, with olive-green patina and earthen deposits. #10MM2: $110 SOLD
---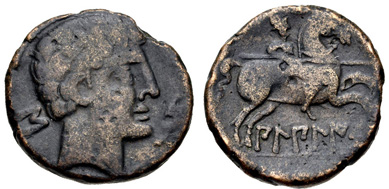 Celtic Tribes of Iberia (Spain). Iberia, Bilbilis. Late 2nd-early 1st century BC. HUGE Bronze As. Bare male head right; Iberian "S" behind; before, dolphin upward / Warrior, holding spear, on horseback right. 27 mm, 13.22 g. ref: ACIP 1567; CNH 1; SNG BM Spain 858. Fine, brown patina. ex-CNG. Incredible and HUGE! #CC2002: $250 SOLD
---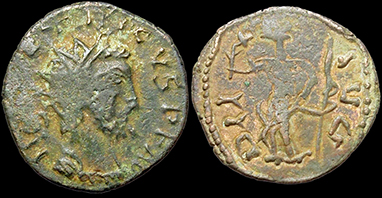 Roman, Gallic Empire! (Celtic). Tetricus I, 271-274 AD. Bronze antoninianus c. 270-273 AD. Radiate, cuirassed bust right, IMP C TETRICVS PF AVG / Pax, standing left, holding olive branch and vertical sceptre, PAX AVG around (garbled). 18 mm, 2.76 g. ref: RIC V-2, 100 var. Crude imitative style. Cool! #CR2666: $99 SOLD
---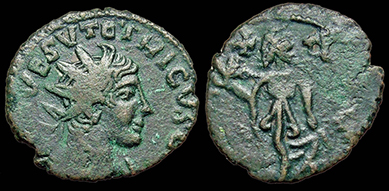 Gallic Empire. Tetricus II, 274 AD. As Caesar. Bronze Antoninianus. His radiate, draped bust right, C PIV ESV TETRICS CAES /Spes walking left, holding flower and raising hem of robe, only one leg visible through robe, SPES AVGG. 18 mm, 2.10 g. ref: Cunetio 2655, Elmer 793, Appleshaw hoard 470, RIC V-2, 270 var. Great green patina! Very stylized 'Celtic' form. #CR2698: $99 SOLD
---
Ancient Celtic silver tetradrachm imitating Alexander the Great (336-323 BC). Great style! Head of Herakles rt. in Nemean lion-skin headdress / Celticized Zeus enthroned left, with eagle & scepter. Barbarous "gobbledeegook" inscription around. Big and chunky 27 mm. #003: SOLD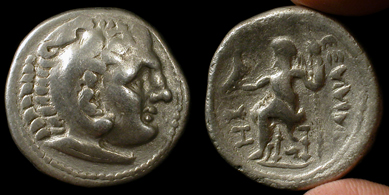 ---
Celtic Spain. Castulo tribes of Iberia, c. 200-50 BC. Bronze semis. Diademed youthful male portrait rt, Iberian script / Bull standing r., crescent moon above. Nice coin with great style! Uncleaned, as found. Measures 20 mm. #4257: $95 SOLD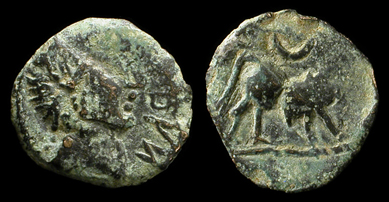 ---
Ancient Celtic large silver tetradrachm, minted at the Greek island of Thasos, 2nd century BC. Bust of Dionysos right, wreathed in ivy / A rather swishy Herakles holding club, drapery over shoulder. Celticized-Greek inscription HEPAKLEOYS SOTHPOS THASION. Large 32 mm, 16.26 grams. Slightly wavy flan common to these. Excellent detail! #21031x2-n1u7 SOLD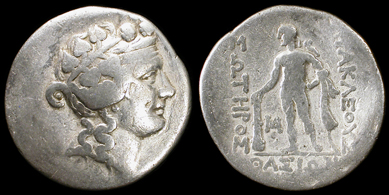 ---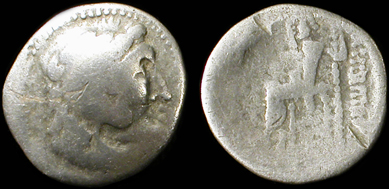 Ancient Danube Basin, 2nd Century BC. Silver drachm imitating an issue of Alexander the Great or Philip III of Macedon. 3.13g. 19mm. Stylized head of Herakles rt., wearing lion's skin. / Stylized Zeus seated lt., holding an eagle and sceptre, blundered legend behind. Cf.Gobl 595. Some flatness as per the type, but struck in better metal for the issue. Nice! #mtp340: $89 SOLD
---
Ancient Celtic. Northwest Gaul, Senones. C. 150-100 BC.
Potin Unit. Stylized head right, with wild hair / Stylized horse standing left; pellets around. 18.5 mm, 3.74 g. ref: D&T 2640; CCCBM III 389-87. VF, black patina with earthen deposits, attractive and rare! #CC2007: $199 SOLD
---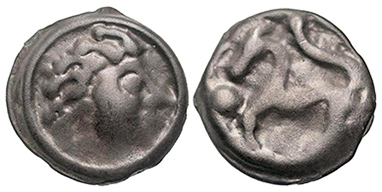 Ancient Celtic. Northwest Gaul. Senones. C. 150-100 BC. Potin Unit. Stylized Celtic head right, with wild hair / Stylized horse standing left; pellets around. 18.2 mm, 4.39 g. ref: D&T 2640; CCCBM III 389-87. Fine, black patina. #CC2028: $199 SOLD
---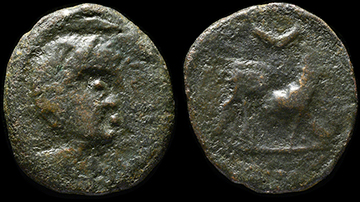 Celtic Spain. Castulo tribes of Iberia, c. 200-50 BC. Bronze semis. Diademed youthful male portrait right, Iberian script / Bull standing right, crescent moon above. 19x21 mm, 4.94 g. Black patina, great style! Blurry photo. #CC2037: $75 SOLD
---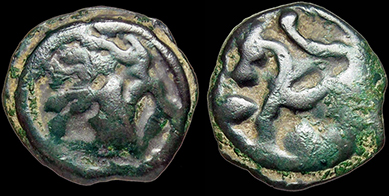 Celtic, Northwest Gaul. Senones, 100-50 BC. Potin Unit. Head right with 6 strands of hair / Horse galloping left, two pellets. 19 mm, 4.52 g. ref: De La Tour 7417. Great green patina! #CC2046: $125 SOLD
---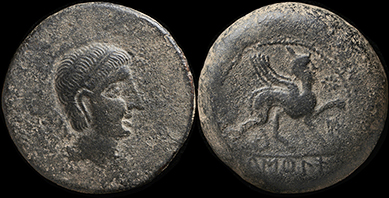 Celtic Spain. Castulo, mid 2nd century BC. Huge bronze AE33 coin. Diademed male head right / Sphinx right, left forepaw raised; star to right, "AMON" monogram below. ref: ACIP 2126; SNG BM Spain 1298. Massive 33mm, 28.79 g. Very Fine with gorgeous detail. Attractive olive-green patina, light earthen deposits. ex-Frank S. Robinson, Albany, NY. Excellent! #CC2052: SOLD
---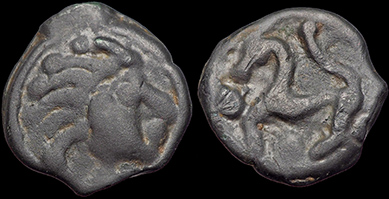 Celtic, Northwest Gaul. Senones, 100-50 BC. Potin Unit. Head right with 6 strands of hair / Horse galloping left, two pellets. 18 mm, 4.16 g. ref: De La Tour 7417. Dark olive-green patina. ex De Pere, WI collection. #CC2057: $125 SOLD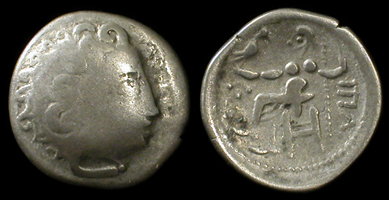 ---
Ancient Celtic large silver tetradrachm, minted at the Greek island of Thasos, 2nd century BC. Bust of Dionysos right, wreathed in ivy / A rather swishy Herakles holding club, drapery over shoulder. Celticized-Greek inscription. 32 mm diameter. #120: $250 SOLD
---
Ancient Celtic large silver tetradrachm! Imitating the coinage of Philip II of Macedon, 359-336 BC (Alexander the Great's father). Stylized bust of Zeus rt. / Horseman left. 24 mm, 6.9 g. Large and striking... a very cool coin! #6518: $175 SOLD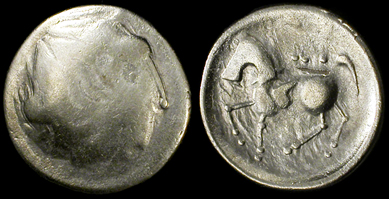 ---
Ancient Celtic silver drachm. Classic type imitating Alexander III the Great of Macedon (336-323 BC), but in great Celtic style. Wild-haired head right / stylized Zeus enthroned with eagle and scepter, barbarous inscription. 17 mm. #121: $95 SOLD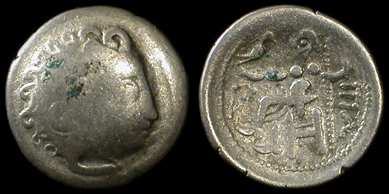 ---
Danubian Celts, c.3rd - 2nd Century BC. AR Drachm imitating an issue of Alexander the Great of Macedon. Stylized head of Herakles rt., wearing lion's skin. / Zeus seated lt., holding an eagle and sceptre, monogram in lt. field and lamda below seat. Fine with Alexander's name blundered a bit. 3.13g. 18mm. An interesting type! #mtp533: $75 SOLD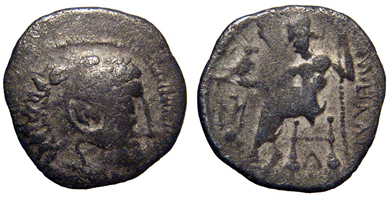 ---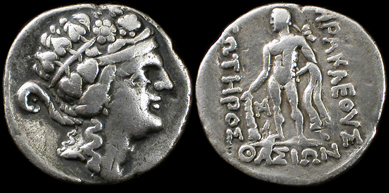 Ancient Celtic large silver tetradrachm, minted at the Greek island of Thasos, 2nd century BC. Bust of Dionysos right, wreathed in ivy / A rather swishy Herakles, naked, holding club, drapery over shoulder, Celticized-Greek inscription HEPAKLEOYS SOTHPOS THASION. Large 30 mm, 16.25 grams, very thick. Very slight wave in flan. Shiny bright silver surfaces with nice toning in recesses. Gorgeous! ex-Frank S. Robinson, Albany, NY. #CC2012: $399 SOLD
---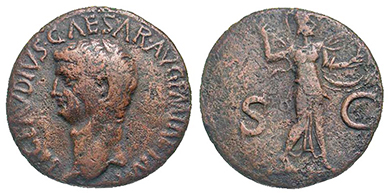 Claudius, Roman Emperor 41-54 AD. Bronze As. Romano-British Celtic imitation, struck 41-42 AD. TI CLAVDIVS CAESAR AVG P M TR P IMP, bare head left / S-C, Minerva standing right holding spear and shield. 26.1 mm, 7.39 g. cf. RIC 100; cf. BMCRE 149. aVF, nice bust. CR2526-scc: $199 SOLD
---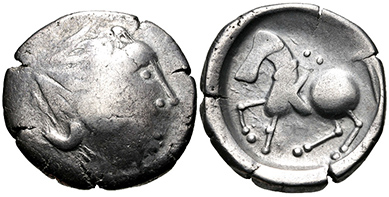 Celtic, mint in the region of Transylvania, c. 2nd Century BC. Large silver tetradrachm, imitating an issue of Philip II of Macedon. Stylized laureate head of Zeus right / Stylized horse advancing left within incuse circle. 23mm, 7.69 g. ref: OTA 303; KMW 1225. VF, toned. From the B. H. Webb Collection. Ex Classical Numismatic Group Electronic Auction 144 (26 July 2006), lot 1; ex-CNG. #CC2048: $275 SOLD
---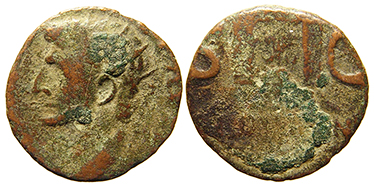 Ancient Celtic. "Barbarous" coin imitating a Roman coin of Augustus Caesar! Struck c. 27 BC - 14 AD during the reign of Augustus. Radiate head of Augustus left / S-C either side of large altar. Similar to ref. Sear 1789. 22 mm, 4.37 g. Coppery patina with olive-green earthen deposits. ex-Frank S. Robinson, Albany, NY; from my own personal collection! #CC2022: $150 SOLD
---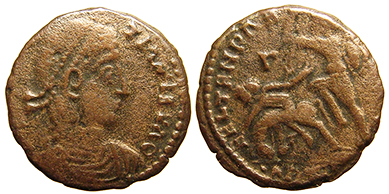 Ancient Celtic. "Barbarous" coin imitating a Roman coin of Constantius II (337-361 AD). Diademed bust right, garbled Celtic inscription around / Soldier leaping up and spearing fallen Barbarian horseman, garbled Celtic inscription around. Dark coppery tone, nice detail, better than photo. 21.5 mm, 3.98 g. ex-Frank S. Robinson, Albany, NY; from my own personal collection! #CC2018: $125 SOLD
---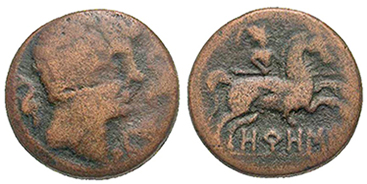 Ancient Celtic. Iberia, Orosi tribes. Late 2nd-early 1st century BC. Bronze AE 24 coin. Draped male bust right; three dolphins around / Horseman riding right, holding spear, Iberian legend below. 23.8 mm, 9.34 g. ref: ACIP 1509; SNG BM Spain 820-1. Fine, brown patina. #CC2026: $150 SOLD
---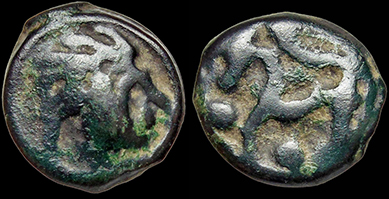 Celtic, Northwest Gaul. Senones, 100-50 BC. Potin Unit. Head right with 6 strands of hair / Horse galloping left, two pellets. 17 mm, 5.02 g. ref: De La Tour 7417. Great green patina! #CC2045: $125 SOLD