---
SPECIAL!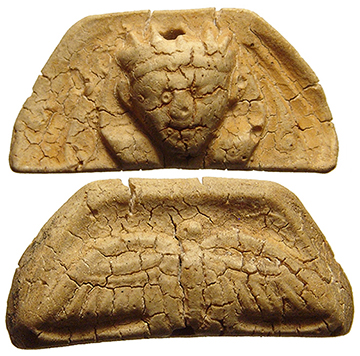 Neo-Assyrian, 8th - 7th Century BC. Fantastic and rare glazed composition amulet of Auzu. One side possesses a facing head in wonderful Egyptian style amidst floral elements on one side with the stylized lion-headed eagle in flight called Auzu opposite, wings nicely detailed. Auzu was a symbol for the god Ningirsu or the bird which Ningirsu defeats. It is thought that the Auzu represents the power of storm-clouds. 35 x 17 x 13 mm. Vertical hole for suspension. Some weathering and light deposits. Ex David Liebert collection; Ex Tom Cederlind collection; Ex Mark Reid (Time Machine, NY). #AP2450: $450
---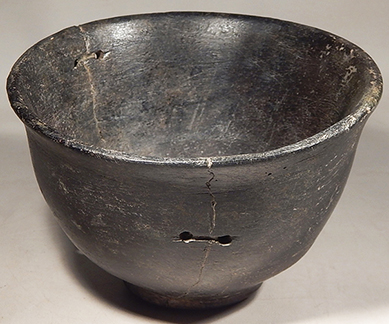 Southern Mesopotamia, 3rd Millennium BC. Rare steatite bowl with ancient repair! Carved from dark grey steatite with flaring sides and a raised disk foot. This bowl was apparently extremely valuable and shows an excellent example of ancient repair, the bowl having broken in half and bands were placed in three places, each defined by two drilled holes joined by a shallow channel. Expertly restored. 4 7/8" x 3" (12.5 x 7.7 cm). Ex private collection, New Orleans, LA, USA, acquired in the Arabian Peninsula during the 1950's - 1960's. This is a fantastic piece.
More photos available upon request! #AP2451: $750
---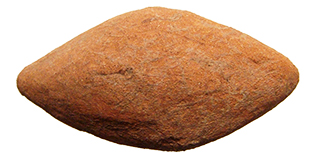 Mesopotamia, c. 2nd millennium BC. Fantastic and very rare Mesopotamian sling bullet. Made of ceramic, with rounded profile and pointed ends, capable of serious damage in the hands of the skilled Mesopotamian warriors. 47 mm (1 7/8") long with nice reddish color. Ex Royal Athena Galleries, New York City acquired on the London Art Market October 1989. #AP2089: $299
---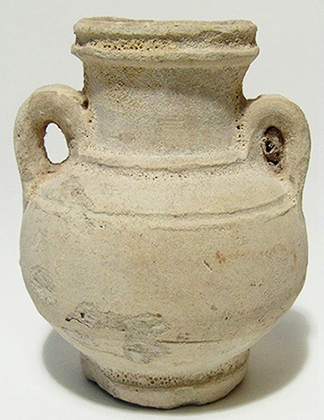 California Museum of Ancient Art De-accession!
Ancient Mesopotamia. Neo-Assyrian, c. 800 BC. A small Assyrian amphoriskos. Unglazed, the rounded body with disk base, narrow neck with collared rim and two strap handles. A nice example with incised decoration and light surface deposits. 3 3/4 in (9.5 cm). Ex-New Jersey private collection; Ex-California Museum of Ancient Art. #AP2244: $750
---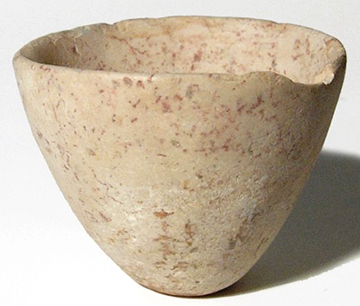 California Museum of Ancient Art De-accession! A gorgeous Sumerian creme and pink marble conical cup. Early Dynastic Period, c. 2500 BC. Wwell-hollowed with narrow flat bottom. An elegant example with attractive mineral deposits. H: 2 in (5 cm); Dia: 2 3/8 in (6 cm). Very rare. Ex-New Jersey private collection; Ex-California Museum of Ancient Art. #AP2243: $925
---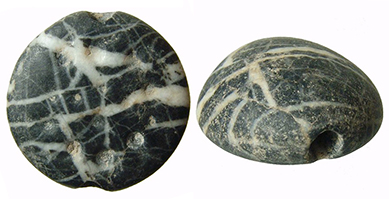 Sumeria, Late Uruk/Jemdet Nasr Period, c. 3100 - 2900 BC. Great large Sumerian black and white marble stamp seal. The base with multiple drill dots, hole lengthwise for suspension. 32x32mm. Ex Time Machine Company, New York. Very nice! #AP2143: $499
---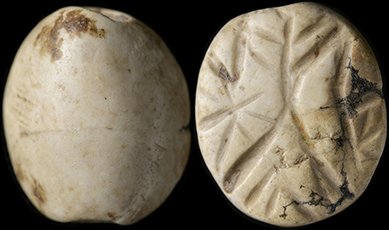 Sumeria. Jemdat Nasr, c. 3000 - 2700 BC. Large Sumerian creme marble stamp seal. Ovoid in shape with rounded top and longitudinal hole for suspension. The base is lightly convex and is incised with a Y-shape device with star-like devices around. 24.5mm x 20.5 mm. Light deposits. Ex California Museum of Ancient Art de-accession (acc. #SS0905). #AP2454: $450
---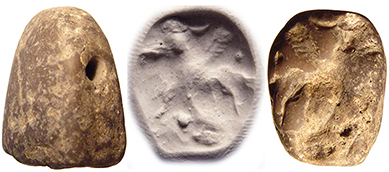 Mesopotamia. Neo-Assyrian, c. 8th - 7th Century BC. Great limestone pyramidal stamp seal, a winged antelope engraved on the base; horizontal drill through handle. H: 2 cm. Dark purplish-grey color, light deposits. Ex California Museum of Ancient Art de-accession (acc. #SS2006). #AP2474: $275