---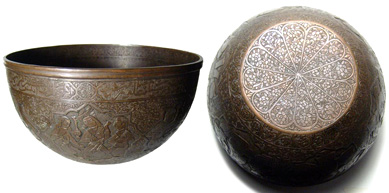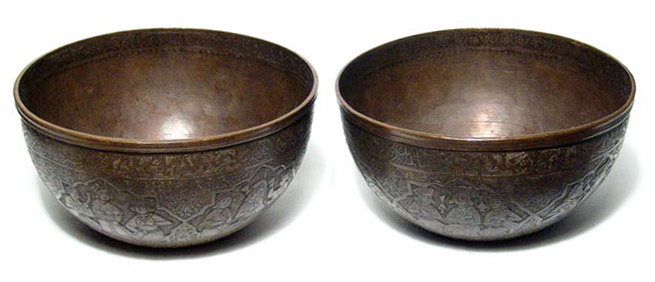 Special: A pair of beautifully incised Antique Persian bronze bowls, 19th Century AD, each decorated with scenes of men and woman drinking amidst elaborate floral devices. An inscription runs around the rim of both vessels. Intact with incredible workmanship. 5 1/8" (13 cm) diameter. Ex English collection. #0910233: SOLD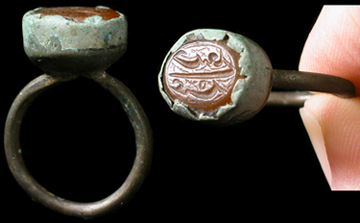 Islamic Persia, c. 17th-18th century AD. Bronze ring set with a beautiful carnelian intaglio delicately engraved with beautiful Persian script. 31 mm tall, about a US size 8. ex-Southern California collection. #A110211x3: $175 SOLD
---
Ancient Persian Handwritten Documents:

Book of Kings (Shah-Nameh)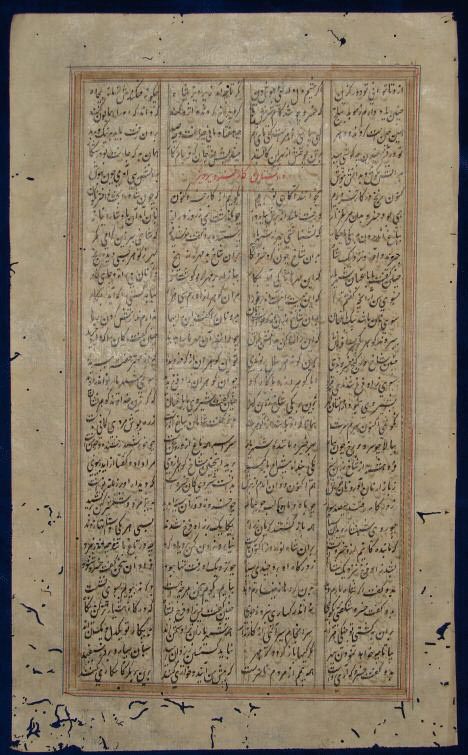 ---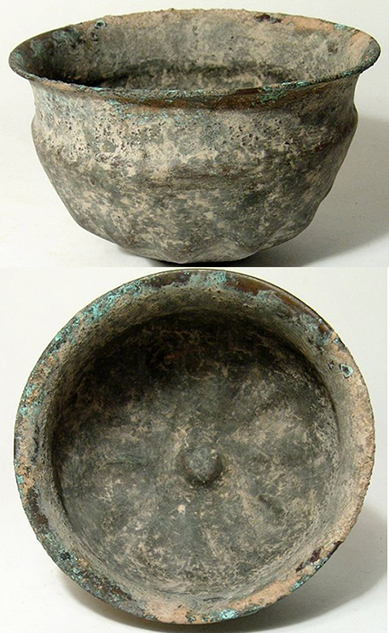 Achaemenid, ancient Persia, 4th – 3rd Century BC. Great Achaemenid bronze bowl. Formed from hammer sheet bronze, the bowl quite deep with ribbed lower body, the mouth widely flared. Well-preserved and a very nice example! Dia: 4 5/8" (11.9 cm); H: 3" (7.5 cm). Nice olive green patination with light deposits. Ex Coliseum Coin Exchange, (May, 1996) lot 449. #AP2447: $399 SOLD
---
Achaemenid, ancient Persia, c. 5th Century BC. A choice Persian gold foil plaque. In the form of a sphinx with bearded head of a king of hero wearing a short headdress, wings curled forward. 24 x 19 mm. Nicely detailed with four holes which fastened to a belt or garment. Ex David Liebert, Time Machine, NY. #AP2402: $1500 SOLD
---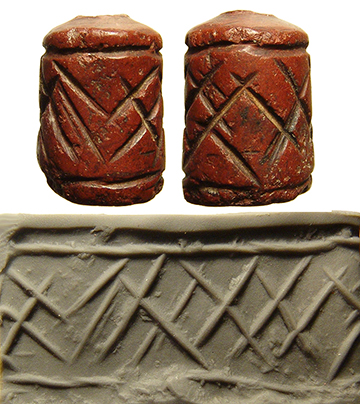 Ex-Museum deaccession!
Iran. Proto-Elamite, c. 3400-2500 BC. Incredible red steatite Looped cylinder seal. Engraved with a net pattern, and linear borders. Not holed, this had a suspension loop, broken in antiquity. Gorgeous stone. L 2.31cm. Ex California Museum of Ancient Art De-Accession (Inv. #CS3118), acquired in 1989. Comes with museum-quality rollout. #AP2206: $650 SOLD
---
---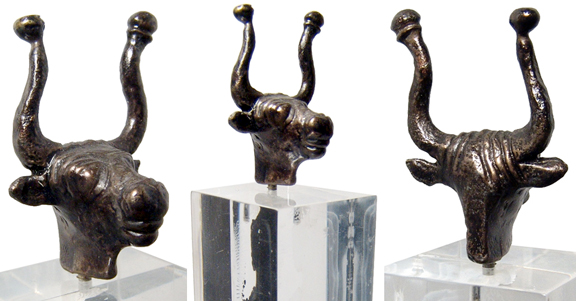 Special: Achaemenid, ancient Persia, c. 6th - 5th Century BC. Great silver head of a bull. With naturalistic features and round ornaments at the tip of each horn. Well preserved with great surfaces and an attractive dark tone. H: 1 1/2" (3.8 cm). Mounted on a custom lucite base. Ex Los Angeles private collection. #0611117: $625 SOLD


Special: Sasanian, ancient Persia/Iran, c. 3rd-6th Century AD. Gorgeous carnelian intaglio (ring seal). Depicts an animal with what appear to be tusks and a ridge down its back, possibly a boar.
Could still be set into a ring today! 9 mm (3/4") diameter, with great red tone. #272128x2: $199 SOLD
---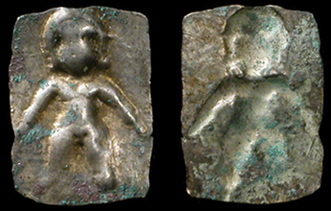 Achaemenid Dynasty, ancient Persia. 5th-4th century BC. Fantastic silver plaque depicting a standing nude female figure, made in reposse. Nicely toned, and intact! Extremely rare. H: 18 mm (just under 3/4"), weighs 0.35 grams. ex-Los Angeles private collection. #AP2024: $375 SOLD
---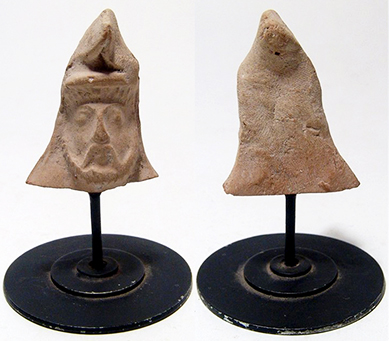 Ancient Persia, c. 6th – 4th Century BC. Nice Persian terracotta head of a bearded man, perhaps a king or priest, wearing folded headdress and diadem, his features nicely detailed. H: 1 3/4" (4.4cm). Light deposits, fingerprints of the ancient maker still clearly visible on back! On old metal base. Ex Wiltshire, UK private collection: From the estate of Amold Walter Lawrence, 1900-1991, younger brother of TE Lawrence ("Lawrence of Arabia"). Historian who participated in, among others, the excavation of UR. Collected prior to WWII. #AP2138: $425 SOLD
---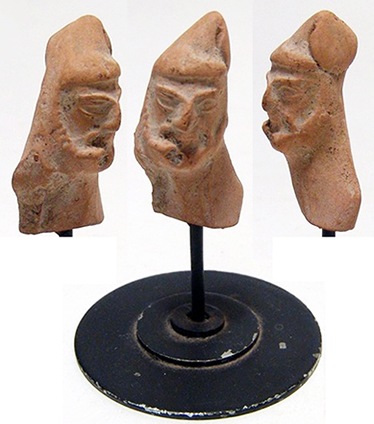 A Persian terracotta head of a man, c. 5th - 4th Century BC, wearing pointed cap and with mustache and beard. H: 1 5/8 in (4.3 cm). On old metal base. Ex Wiltshire, UK private collection: From the estate of Amold Walter Lawrence, 1900-1991, younger brother of TE Lawrence ("Lawrence of Arabia"). Historian who participated in, among others, the excavation of UR. Collected prior to WWII. Attractive, better than photo. #AP2140: $250 SOLD
---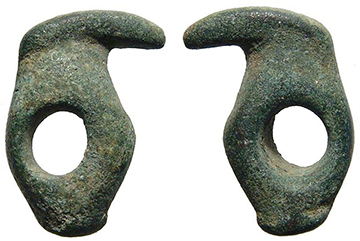 Museum Deaccession! Ancient Persia. Amlash, c. 1200 – 1000 BC. Rare Amlash bronze pendant in the form of a bird. With large central hole form suspension and attractive green patination. 25 x 21mm. Fantastic amulet, resembling a piece of modern art with its abstract appearance. Ex-East Coast private; Ex-California Museum of Ancient Art, acquired in 1989 (accession #0749). Extremely rare! #AP2396: $399 SOLD
---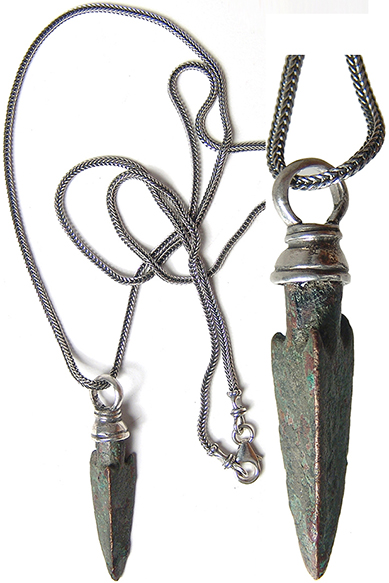 Parthian, ancient Persia, c. 3rd century BC - 2nd century AD. Nice bronze arrowhead set into custom .925 silver necklace. Arrowhead trii-lobate (3 bladed) type. cf. Petrie 69-71. Malloy,
Weapons
, Plate XIV #116. From an old Los Angeles, CA collection. Arrowhead thick and sturdy with olive-green patina, measures 33 mm (1 5/16"); necklace 25" long. #WP2305: $350 SOLD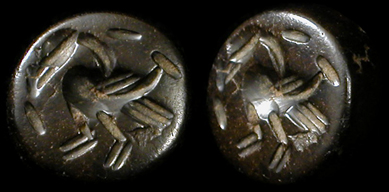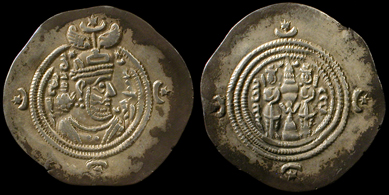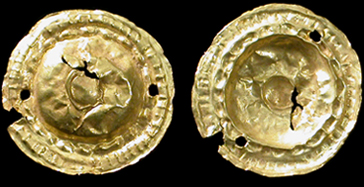 Amlash, ancient Persia, c. 7th – 6th century BC. Beautiful gold clothing ornament. Masterfully crafted from hammered sheet gold, with central raised boss and repoussé decoration. Dia: 3/4" (20 mm), 0.27 g. Perforated for attachment. Ex Taisei Gallery. Gorgeous! #AP2051: $250 SOLD
---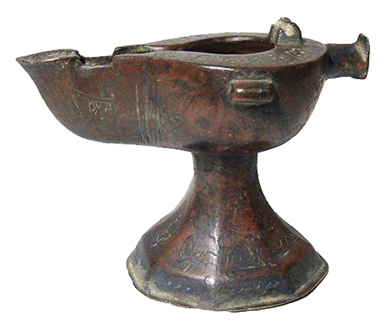 Ancient Persia, c. 8th - 11th Century AD. A gorgeous Persian Khorasan bronze pedestal oil lamp. Made with pedestal base and decorated with incised decoration. H: 80 mm (3 1/8"), L: 105 mm (4 1/8"). Handle and lid now missing, nice glossy brown patina. Old museum collection number inked on base. Ex Southern California private collection. #AP2125: $499 SOLD
---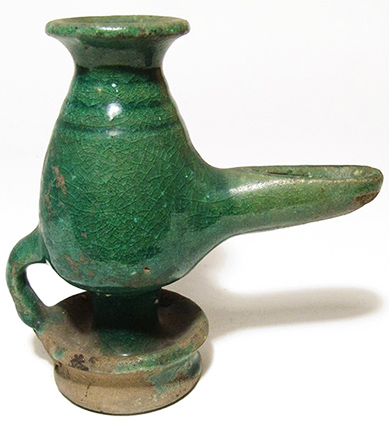 Medieval Persia, c. 14th - 15th Century. A great Persian green-glazed oil lamp. Made with a thick rounded base, long spout and single loop handle. H: 5 1/2 (13.6cm). Well-preserved with gorgeous blue-green color. Ex Brauns collection, Southern California. An excellent display-piece! #AP2272-N2YK: SOLD
---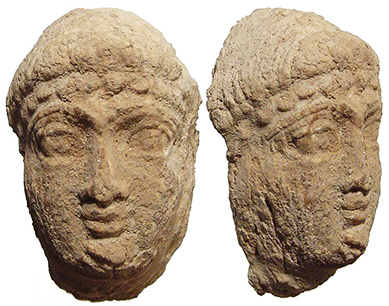 Achaemenid Persia, c. 5th Century BC. Fine limestone head of a man, museum de-accession! An Achaemenid limestone head of a man, with extremely well-detailed features in a handsome, soft style. Very scarce with light surface deposits. H: 2-7/16" (6.2 cm). Ex-New Jersey private collection; ex-California Museum of Ancient Art, de-accession. #AP2279: $650 SOLD
---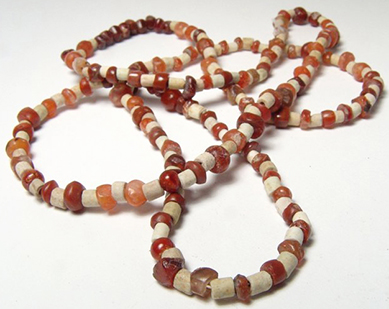 Ancient Persia. Sasanian, c. 3rd – 7th Century AD. Gorgeous Sasanian carnelian beaded necklace. The vibrant orange beads are of varying shapes but mostly uniform in size and strung with tubular crème colored composition beads from an earlier period. At the center of the strand are a few larger beads including a nice translucent biconical pendant bead. L: 36 1/2" (92.6cm). Ex Oxford, UK private collection. The necklace is strung on 20th century string, but I could re-string on sturdy Softflex jewelry wire with silver-plated clasp for an additional $15 upon request. #JS2117: $399 SOLD