Ancient Persia, Luristan, c.1500-1200 BC. Bronze arrowhead. Long pointed tang, nicely shaped rounded blade with central raised ridge for strength. Uncleaned, as found! From an old Midwestern USA museum collection formed in the 1960's. 176 mm long! #mus15: $225 SOLD
---

Luristan, Persia, c. 3rd - 2nd Millennium BC. Large bronze spearhead. Leaf-shaped blade with wide raised mid-rib and 'rat-tail' tang where it would have been affixed to the spear shaft. Intact with several nicks in the blade from use in antiquity. 240 mm (9 1/8") long and heavy! Great "river" patina. Ex North Carolina private collection. #WP2003: $399 SOLD
---

Persia, Luristan, c.1500-1200 BC. Gorgeous late bronze age lance head found in North-Western Iran.
Leaf-shaped blade, extended tang and raised central mid-rib with interesting textured design. Intact with bright azurite to malachite colored patina. ref: Muscarella, Bronze and Iron: Ancient Near Eastern Artifacts in the Metropolitan Museum of Art p.290, Fig 396. Measures 141 mm long. ex-Midwest USA museum deaccession. #WP2125: $299 SOLD
---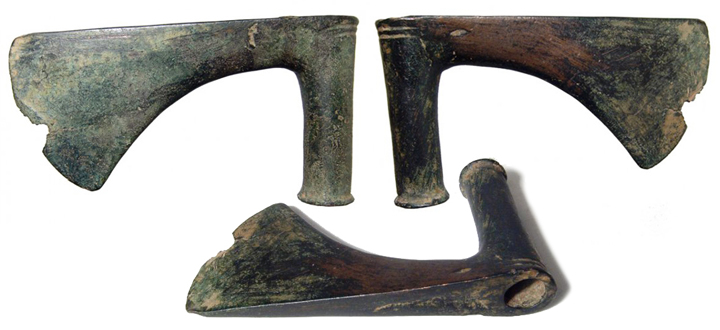 Persia, Luristan. Western Iran c. 1st millennium BC. Fantastic battle-damaged bronze axe head. This cast bronze axe head was
actively used in battle as evidenced by a notch in the blade made from hard contact with a sword or opposing axe. Measures 5 3/4" x 3" (145 x 78 mm) and heavy! Gorgeous olive-green patina, blade still quite sharp, long hollow shaft. Ex collection of Arthur Sackler
(1913-1987), American Psychiatrist, Entrepreneur, and Philanthropist. Acquired prior to 1970. #WP2138: $950 SOLD
---

Luristan, Persia, c. 1200 - 900 BC. Incredible bronze dagger with original inlays! The blade tapered with square shoulders, narrow rectangular guard and low midrib. The hilt is flanged with remains of red and green inlays, with lightly curved pommel, the grip with three central ridges. Evidence of heavy sharpening in antiquity between battles. 13 4/5" (35.1cm). Extremely well-preserved and EXTREMELY RARE with remains of inlays like this. A nice example with custom lucite stand. Ex New Jersey private antiquities collection. A magnificent display piece! #WP2144: $3500 SOLD
---

Luristan, ancient Persia, c 1000-650 BC. Excellent bronze dagger. Two-piece construction, the wide blade set into the handle with crescent-shaped channeled ridge. Both crescent and handle recessed, where a bone or wood inlay would have been set in antiquity.
L: 13.5" (34.3 cm). Slight bend to blade, like from damage in battle. Ex-Julian Hovsepian estate collection acquired prior to 1990. Additional photos available on request. #WP2392: $1250 SOLD
---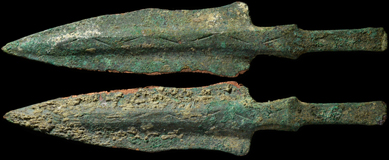 Ancient Persia. Luristan-Elamite, c. 1200-800 BC. Excellent bronze spear-point. With triangular-shaped blade, prominent mid-rib with fine incised decoration, and short, rectangular tang. 5" (127 mm) long with olive-green patina and heavy earthen deposits. From a Ketchum, ID private collection, purchased at major US and UK galleries and auction houses between 1989-1999. #WP2232: $250 SOLD
---

Luristan, ancient Persia, c. 1200 - 800 BC. Fantastic bronze dagger. The hilt and blade cast as one piece, with long and slender blade with wide flat midrib, the handle with flanges for inlay. L: 11 7/8" (30cm). Excellent deep olive-green patina. Very nice and impressove in-hand. Ex Newport Beach, CA private collection. #WP2355: $950 SOLD
---

Luristan, ancient Persia, c. 1200 - 800 BC. Nice and very long bronze dagger. The hilt and blade cast as one piece. The blade is long and slender with wide flat midrib, the handle with flanges for inlay. L: 14 1/5 in (36cm). Olive-green patina with earthen deposits. Nicer than photo! Better photos available on request. Ex Newport Beach, CA private collection. #WP2356: $650 SOLD
---

Luristan, ancient Persia, c. 1200 - 800 BC. Nice bronze dagger. The blade and handle cast as one piece, the hilt flanged with wedge-shape pommel then edge with low flanges and lappets for holding the original inlays in place. L: 12 3/4" (32.5cm). A nice example with pleasing smooth olive-green patina. Cf. Moorey, Catalogue of Persian Bronzes in the Ashmolean Museum (Oxford, 1971), p. 72, no 48 for a similar example. Ex UK private collection, acquired during the 1970s and 1980s. #WP2386: $1250 SOLD
---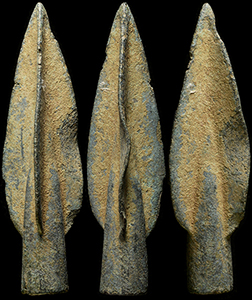 Judaea. Time of the Persian conquest, c. 8th-5th century BC. Fantastic and large bronze arrowhead. Three-bladed type. Big 44 mm (1 3/4") with olive-green patina and earthen deposits. Battle damage to blades! ref: Tushingham fig 69:20v; Muscarella #322; Malloy "Weapons" plate XIV #111-var. Found near Jerusalem. ex-Jerusalem, Israel collection. #WP2432: $250 SOLD
---

Luristan, ancient Persia, c. 1200-800 BC. Excellent bronze spear-tip. Leaf-shaped double edged blade with raised midrib, rounded shoulders, and long tang. 10.4 cm (4 1/8") long with olive-green patina and earthen deposits, minor edge chips. ref: Moorey 73. ex-Spartan Numismatics. #WP2300: $275 SOLD