Authentic Ancient Egyptian Artifacts for Sale
All my Egyptian artifacts were legally exported from Egypt prior to the 1970 UNESCO treaty, and my policies comply with all international trade laws regarding antiquities. The items are legally and ethically acquired, coming from old American and European collections and auctions. Provenance is not always listed in every item description due to restricted space, but is provided on the certificate of authenticity that accompanies each item. Enjoy!
---


Ancient Egyptian Oil Lamps

---

---


Pre-Dynastic Egypt

---


Extraordinary Old Kingdom Burial Chamber Wall Tiles

---


Egyptian Animal Mummies

---

---

Related: Hittite Artifacts!
---
Featured Egyptian Artifacts
Ancient Egypt, Late Period, c. 664 - 30 BC. Nice blue-green faience flask. The body round with flattened profile, the trumpet-like spout flanked by two pinched handles with cut-out holes for suspension. H: 2 3/8" (6 cm). A nice little flask, most likely contained oil used for an offering. Ex Henk Huffener collection, UK, acquired in the late 19th Century. Ask me about having a custom stand made! #AE2461: $350

---

Ancient Egypt. Late Period, c. 664-323 BC. Great carved stone amulet of Horus, in falcon form. With nice custom base. ex-Bob Brand and Liz Werthan coll., Philadelphia, PA. #AE2481: $450

---

RARE! Ancient Egypt, Late Period, c. 664 - 535 BC. An intact section of faience beaded shroud or netting. Comprised of multi-colored faience disc beads from the beaded net which covered some of the Late Period mummies. The beads are held together with the original threading and are nicely preserved with earthen deposits on the surfaces. Measures 39x45 mm (1 7/16" x 1 7/8"). ex-Ernest Freemark collection formed 1913-1915; ex-R. Knickerbocker collection, NY, by descent. With Mr. Freemark's original small paper envelope with inked notes from when it was collected. #AE2530: $299 SOLD

---

Roman Egypt, c. 1st-3rd century AD. Bronze bracelet formed from thick, twisted wire, in two parts with losses. Olive-green patina with earthen deposits. Dia: 2 3/8" (61 mm). Ex-B.C. Antiques, Los Angeles gallery, closed during the 1970's. #JS2045: $125 SOLD

Phenomenal Egyptian faience figure of the goddess Ma'at. Ancient Egypt, Late Period, c. 600-300 BC. She is depicted squatting with her knees drawn up; her feather now missing. Lovely turquoise-blue to green color, with black details. Excellent facial features. H: 52 mm (2 1/8"). A VERY RARE figure in faience! ex-estate of Thomas Bentley Cederlind, Portland, OR. Gorgeous color.

A mini-masterpiece! #AE2548: $2000

---

Late Period Egypt, c. 664-525 BC. Wonderful light blue faience shallow offering jar. Of the type depicted in the "opening of the mouth" ceremony in tomb paintings and reliefs. Intact and attractive! 2 1/8" (5.6 cm) tall. Ex Los Angeles private collection. #0411003: $450

---

Ancient Egypt, c. 2nd Millennium BC. Rare Egyptian copper adze. Used for carving wood in antiquity, the cutting edge would originally have been perpendicular to the handle. L: 3 3/4" (9.7 cm), losses to end. Nice green patina with heavy earthen deposits. Ex Los Angeles, CA private collection. #WP2271: $250

---

Roman Egypt, c. 1st - 3rd Century AD. Great Egyptian gold and bronze loop from the Roman Period. The core of heavy bronze over which sheet gold has been hammered. 32 x 26mm. Few areas where the bronze core has been exposed. A neat piece which may be a form of jewelry or perhaps a loop for a larger composition. Ex property from a private San Francisco estate; estate residuary beneficiary California Pacific Medical Center Foundation. #AE2039x2: $399
---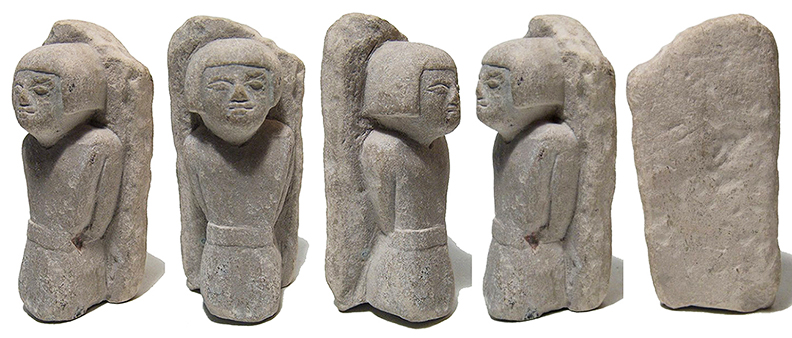 Old Kingdom Egypt, c. 2649 - 2150 BC. An incredibly rare Egyptian stucco sculptor's model of a man. Nicely carved, wearing a short wig and belted kilt, features sensitively rendered in fine style. 2 3/4 in x 1 1/4 in (7 x 3.2 cm). Light deposits throughout and a very handsome piece. Ex Los Angeles, CA private collection; Ex New York gallery. #AE2470: $950 SOLD
All items come with a
100% Lifetime Guarantee of Authenticity.
To make a purchase, or for more information, CLICK HERE
All contents (C) 2003-2017 AD. All rights reserved.
Owned, Operated, and Obsessed Upon by Gabriel Vandervort.
Reproduction without permission is prohibited.
Related search topics: Egypt artifact, Egypt artifacts, Egyptian artifacts, Egyptian artifact, ancient Egypt artifact, ancient Egypt artifacts, ancient Egyptian artifact, ancient Egyptian artifacts, ancient Egypt amulet, ancient Egyptian amulets, ancient Egyptian mummy wrappings, ancient Egyptian mummy linen, ancient art, ancient artifacts, ancient antiquities, amulets, antiquity, antiquities, Los Angeles, ancient artifact dealer Los Angeles

Ancient Egyptian Pottery

---



Ancient Egypt. Late Period, c. 664-535 BC. A fantastic and large faience statuette of Thoth, the ibis-headed god. Depicted standing with one leg forward, holding a large square udjat (Eye of Horus) - that side not shown in photo unfortunately. 48 mm (1 7/8"). ex-Taos, NM collection, purchased at a New York gallery in the 1960's. With nice custom stand. #AE2389: $550 SOLD


Ancient Egypt. Middle Kingdom, c. 2061 – 1690 BC.
Gorgeous necklace of Egyptian carnelian beads, of varying styles and sizes from tiny round beads to large examples with faceted or tapered ends, each with a lovely polish and all strung on modern cord and clasp and ready to wear. Largest bead measures 3 cm in length. Necklace measures 16" (40.6 cm).
Ex Christie's London, purchased in 1983. #JS2044: $750 SOLD

---


Ancient Egypt, Late Period, c. 664 – 30 B. Egyptian faience kohl pot. With squat body and narrow flat base, the mouth also narrow with rounded rim. Well-preserved with pale blue-green color and light earthen deposits. H: 3.5 cml Dia: 4.6 cm. Mounted on a lucite base. Ex B.C. Antiques, Los Angeles gallery, closed during the 1970's. #AE2375: $299 SOLD

---


A strand of Egyptian blue faience beads - ex Flinders Petrie collection! A nice strand of Egyptian light blue faience tube beads, Late Period, c. 664 - 30 BC, along with a swatch of linen from the wrappings of a mummy. Included is the original label which reads - 'Ancient Egyptian necklace of beads in fine light blue glaze, B.C. 900, excavated at Gurob by Prof. Flinders Petrie. From a quantity of beadwork taken from the neck of a mummy. Specimen of the mummy's cloth attached'. L: 19 in (48.1 cm). Some of the beads with light chipping but a great opportunity to acquire a necklace from one of the grandfathers of Egyptology! Ex UK private collection. #JE2030: $750 SOLD

---



Roman Egypt, c. 1st- 3rd Century AD. Large Romano-Egyptian terracotta head of a woman, with large diadem and ears pierced for earrings. H: 2 7/8" (7.5cm). With removable base. Ex Philadelphia, PA private collection. A large and attractive display piece! Very impressive in person. #AR2663: $375 SOLD