Ancient Egyptian Animal Mummies
All my Egyptian artifacts were legally exported from Egypt prior to the 1970 UNESCO treaty, and subsequent international trade laws regarding antiquities. The items are from old American and European collections and auctions.
---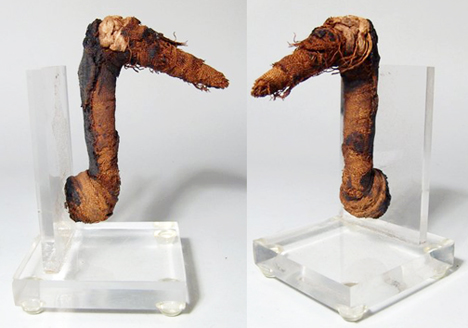 Egyptian linen head from an ibis mummy. Late Period, c. 664 - 30 BC. Tightly wrapped and formed with remains of resin on the back and on various parts of the front. H: 3 1/2" (8.9 cm). Intact and nicely mounted on a lucite base. Ex Connecticut private collection. #A17088: $1200 SOLD
Every item comes with a
100% Lifetime Guarantee of Authenticity.
To make a purchase, or for more information, CLICK HERE
All contents (C) 2003-2016 AD. All rights reserved.
Owned, Operated, and Obsessed Upon by Gabriel Vandervort.
Reproduction without permission is prohibited.
Related search topics: Ancient Egypt mummy for sale, Ancient Egyptian falcon mummy for sale, Ancient Egypt mummies for sale, Ancient Egyptian mummies for sale, ancient mummy for sale, ancient mummies for sale, mummy ancient Egypt for sale