Ancient Egyptian Wood & Stucco Artifacts, Sarcophagus Pieces
All my Egyptian artifacts were legally exported from Egypt prior to the 1970 UNESCO treaty, and my policies comply with all international trade laws regarding antiquities. Every item is legally and ethically acquired, coming from old American and European collections, museum deaccessions and auctions. Provenance is not always listed in every item description due to restricted space, but is provided on the certificate of authenticity that accompanies each item. Enjoy!
---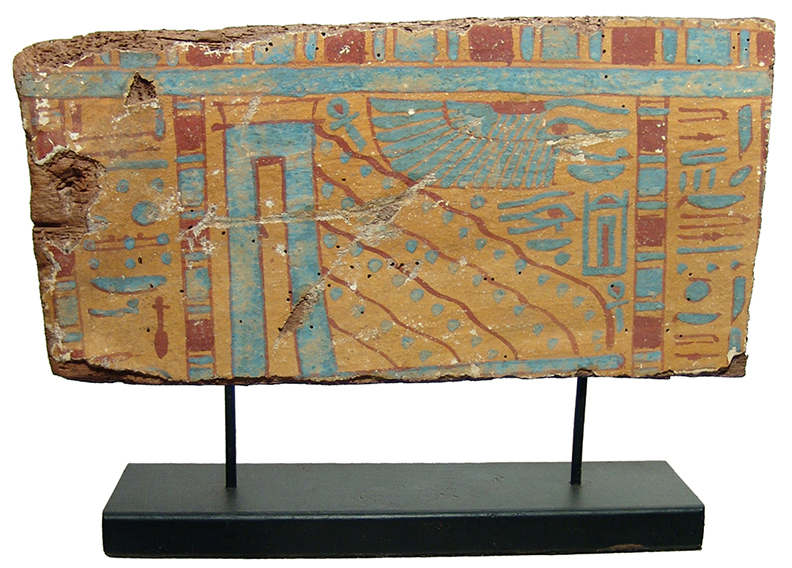 Ancient Egypt, Ptolemaic period, circa 332-30 BC. A beautiful Egyptian painted wooden panel, likely from a sarcophagus, comprised of painted gesso plaster over wood. Vibrantly colored in blue, red, and yellow paint. Multiple hieroglyphic signs on the surfaces including multiple protective "Wedjats" or "Eye of Horus", Ankhs (symbolizing "Life"), protective Wing of Ma'at, among many others. Measures 12.25" x 6". With custom wooden base (entire display measures 12.25"L x 2.5"W x 8.75"H). Provenance: Mr. A. Rehman collection, London, UK, acquired in the 1990's; ex Artemission, UK. * More photos available upon request! #AE3138: $2200
---

Ancient Egypt, Middle Kingdom, c. 2061 – 1690 BC. Large and excellent Egyptian wood tomb figure of a man. Depicted wearing a short wig and kilt, his eyes large and original paint well preserved. Gorgeous color! H: 6 1/8 in (15.6 cm). Ex B.C. Antiques, Los Angeles, closed during the 1970's. #AE2376: $1200 SOLD
Every item comes with a
100% Lifetime Guarantee of Authenticity.
To make a purchase, or for more information, CLICK HERE
All contents (C) 2003-2020 AD. All rights reserved.
Owned, Operated, and Obsessed Upon by Gabriel Vandervort.
Reproduction without permission is prohibited.
Related search topics: ancient Egypt wood artifacts for sale, Egyptian wooden antiquities for sale, Egyptian stucco artifacts for sale, Painted stucco wood relics, ancient Egyptian sarcophagus pieces, ancient Egypt pained Lebanese cedar, Los Angeles California USA