Ancient Egyptian Wood & Stucco Artifacts, Sarcophagus Pieces
All my Egyptian artifacts were legally exported from Egypt prior to the 1970 UNESCO treaty, and subsequent international trade laws regarding antiquities. The items are from old American and European collections and auctions.
---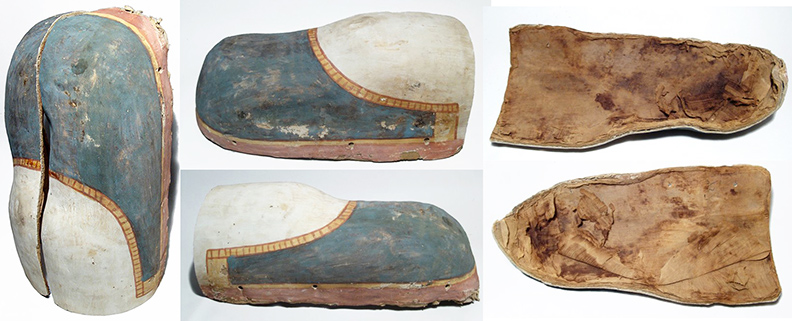 Ancient Egypt, Third Intermediate Period c. 900-700 BC. Rare pair of very large Egyptian pieces of cartonnage from a sarcophagus. Forming part of the back of the head and shoulders with extremely well-preserved white and blue pigment bordered in vibrant red and yellow. Both pieces are linen with multiple layers of linen panels, which support the plaster and paint on the outside. The inside with several layers of mummy-wrappings with dark coloration from the bitumen and resin used during the mummification process. During the Third Intermediate Period the mummy was entirely encased in cartonnage and was laced up the back. The feet were open with a board covering them at the bottom. This example resembles examples found at Lahun. 31" x 11" and 32" x 9 1/2". Ex B.C. Antiques, Los Angeles, CA, closed during the 1970's. #AE2438: $2500
---

Ancient Egypt, Middle Kingdom, c. 2061 – 1690 BC. Large and excellent Egyptian wood tomb figure of a man. Depicted wearing a short wig and kilt, his eyes large and original paint well preserved. Gorgeous color! H: 6 1/8 in (15.6 cm). Ex B.C. Antiques, Los Angeles, closed during the 1970's. #AE2376: $1200

---

Ancient Egypt. Late Period, c. 664-323 BC. Small cartonnage fragment from a mummy. Surface decorated with glossy red and yellow material. 21 mm (13/16"). ex-Henk Huffener collection, UK, acquired in the late 19th century. #AE21191: $75 SOLD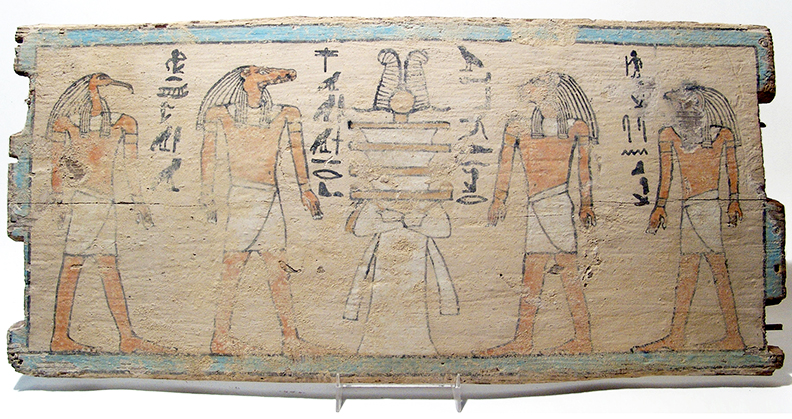 Ancient Egypt, Late Period, c. 664 – 332 BC. A huge and excellent Egyptian wooden panel from a shabti box featuring a central Djed pillar representing Osiris, wearing Atef crown with ram's horns, arms folded at chest, hands holding a crook and flail. He is flanked by four standing male gods, each wearing a short white kilt - ibis-headed Thoth and crocodile-headed Sobek to left and lion-headed Maahes standing before an uncertain animal-headed god on right. Before each deity is a column of hieroglyphic text and the entire scene is bordered by a light blue band detailed with black. 22 in x 10 in (55.7 x 25.5 cm). A lovely panel with light earthen deposits and no repair or restoration at all. Ex New Jersey estate. #A44069: $6500
---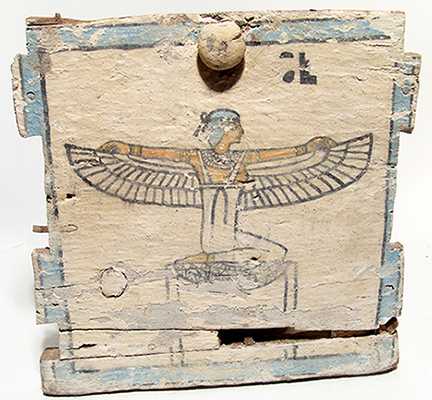 Ancient Egypt, Late Period, c. 664 -332 BC. A beautiful and large Egyptian wood ushabti box side depicting Isis. The goddess depicted kneeling above the hieroglyph for gold, wearing tight fitting gown and head band, wings outstretched. In the upper left field to the right of the knob handle is the name of the goddess in hieroglyphs. The entire scene is bordered by a wide light blue band with black borders, the field is crème colored which contrasts the goddess nicely. A beautiful example of ancient Egyptian painting and was a door for a shabti box or similar piece of furniture. 11 3/4" x 12" (29.7 x 30.4 cm). Very well-preserved and without restoration or repair. Ex New Jersey estate. #A44070: $5500
Every item comes with a
100% Lifetime Guarantee of Authenticity.
To make a purchase, or for more information, CLICK HERE
All contents (C) 2003-2016 AD. All rights reserved.
Owned, Operated, and Obsessed Upon by Gabriel Vandervort.
Reproduction without permission is prohibited.
Related search topics: ancient Egypt wood artifacts for sale, Egyptian wooden antiquities for sale, Egyptian stucco artifacts for sale, Painted stucco wood relics, ancient Egyptian sarcophagus pieces, ancient Egypt pained Lebanese cedar, Los Angeles California USA
---

Ancient Egypt. Late Period, c. 664-323 BC. Small cartonnage fragment from a mummy. Surface with thick raised design in black and red. Highly textured, likely from an area of "hair" depicted on the mummy. 22 mm (7/8"). ex-Henk Huffener collection, UK, acquired in the late 19th century. #AE2153: $99 SOLD