Ancient Persian Coins for Sale:
The White Huns / Hepthalites, 475 - 576 AD
The Hephthalites, also known as White Huns, were a nomadic people who lived across northern China, Central Asia, and northern India in the fourth through sixth centuries. The term Hephthalite derives from Greek, supposedly a rendering of Hayathelite (from the term Haital = "Big/Powerful" in the dialect of Bukhara), the name used by Persian writers to refer to a 6th century empire on the northern and eastern periphery of their land. They appear to be distinct from the Huns who migrated to Europe in the Fourth Century AD.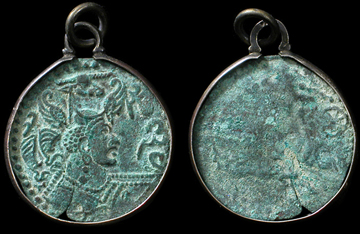 Ancient Persia. White Huns / Hephalite Gandhara, c. 475-576 AD, billon drachm set in custom sterling silver bezel (silver patina to better match tone of coin). King's bust rt. in ornate bull-headed crown; Napki Malka in Pahlavi / Two attendants flanking a fire altar, Kabul and Zabul. 28 mm diameter with wonderful green patina, some copper highlights. Very pleasing to the eyes. #JN2040x2: $250
---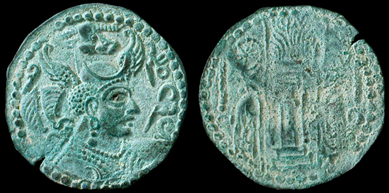 White Huns / Hepthalite Gandahara. 475 - 576 AD. Billon drachm. Obv: King's bust right, wearing ornate bull-headed crown; Napki Malka in Pahlavi. Rev: Two attendants flanking a fire altar, Kabul and Zabul. Unusual coins, and these specimens are in remarkable state of preservation! Excellent green patina with earthen highlings, very sharp details. 26 mm, 3.59 g. Ex-Frank S. Robinson collection. #fsr19920: $125 SOLD
---