OLDER THAN DIRT.
Guaranteed Authentic.

---
Ancient Coins & Artifacts:
Ancient Sumerian Bead Jewelry
3,000 -- 2,000 BC.
Ancient Sumeria, c. 3000-2000 BC. Marvelous necklace comprised of high quality ancient Sumerian beads, from a famous collection! Beautiful black stone and white shell beads, re-strung on sturdy wire with silver clasp and findings.
Ex Wiltshire, UK private collection: From the estate of Amold Walter Lawrence, 1900-1991, younger brother of TE Lawrence ("Lawrence of Arabia"). Historian who participated in, among others, the excavation of UR. Collected prior to WWII. Not only are these the highest quality Sumerian beads I've ever had, the collection provenance is historical in itself! #AP2120: $699 SOLD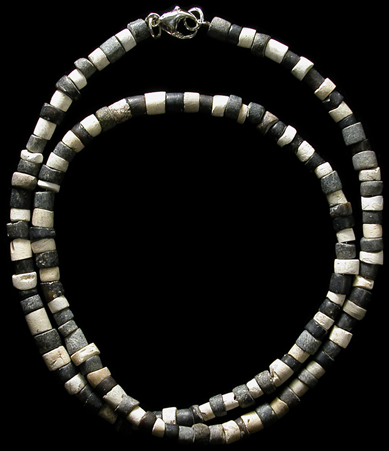 Sumerians valued jewelry as a sign of status and wealth. Each bead was carved with great care, and drilled through with pinpoint accuracy, a stunning achievement given the technology available at the time.
Every item comes with a
100% Lifetime Guarantee of Authenticity.
To make a purchase, or for more information, CLICK HERE
All contents (C) 2003-2016 AD. All rights reserved.
Owned, Operated, and Obsessed Upon by Gabriel Vandervort.
Reproduction without permission is prohibited.
Related terms: ancient Sumerian beads artifacts for sale, Mesopotamian jewelry for sale, ancient Mesopotamia necklaces, ancient Sumerian jewelry, Sumerian Mesopotamian beads for sale, Mesopotamia jewelry artifacts, Sumerian bead jewelry for sale, Los Angeles California
Sumerians valued jewelry as a sign of status and wealth. Each bead was carved with great care, and drilled through with pinpoint accuracy, a stunning achievement given the technology available at the time. Most retain their original creamy white and rich black color, with some earthen deposits on the surfaces. These beads are from an old upstate New York collection, legally excavated in Syria in the 1960's. Re-strung on sturdy flexible wire with sterling silver clasps and findings, and are perfectly wearable.

---

Sumerian bead necklaces:
Black and white stone and shell beads. Approx. 17 inches long but can be longer. #sum2903-UCC: SOLD, Ask about alternates

---

Sumerian bead earrings.
Stone and shell beads.
Type #1. #sum440: $199 / pair.
SOLD - Ask about alternates!

---

Sumerian bead bracelets.

Stone and shell beads.
Please indicate length required.
#sum2905: $199 each SOLD OUT