---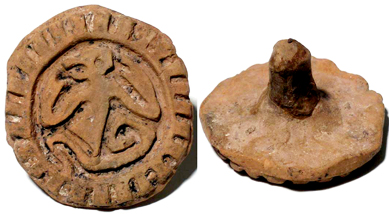 Excellent Maya stamp seal from the Sula Valley of Honduras, c. 600 - 800 AD. It is 2" in diameter and depicts Ozomatli, the God of Dance, surrounded by a rayed solar symbol. Nice deep-cut detail, good mineral deposits. Ex-Tribal Treasures Gallery #PR2157: $399 SOLD
---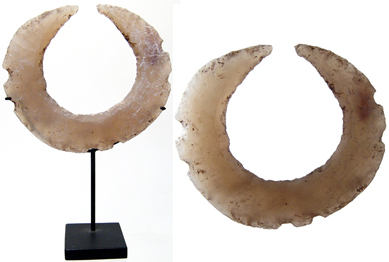 A very attractive Mayan stone nose ornament from Guatemala, c. 250 - 700 AD. Nicely carved in translucent chalcedony, with six indentations around the edge. 2 7/8" x 3 1/4" (7.3 x 8.3 cm). Intact, light deposits. Mounted on a custom stand. Ex Midwest private collection. Nice display piece! #PR2073: $499 SOLD
---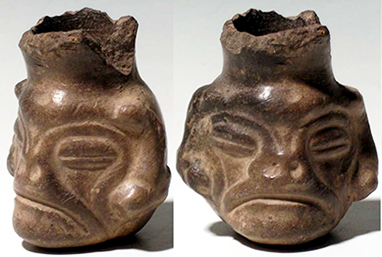 Mayan, c. 400 – 700 AD. Fine Maya poison pot from Guatemala. This nice Portrait-type vessel depicts an individual adorned with large ear ornaments. The rim damage attests to the extensive usage as a snuff container. H: 67 mm (2-5/8"). Acquired at auction from the Clayton estate, Dallas, TX. A former US diplomat serving in Central America in the 1960's and 70's. Nice! #PR2240: $399 SOLD
---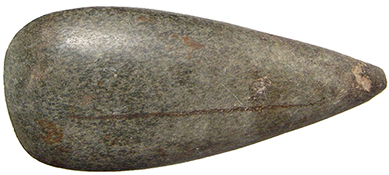 Ancient Mayan, c. 400 - 600 AD. Choice Mayan green stone celt. Nicely formed with rounded cutting edge. L: 3-1/2" (8.9 cm). With light deposits and nice original polish. Ex Connecticut private collection. #PR2286: $150 SOLD
---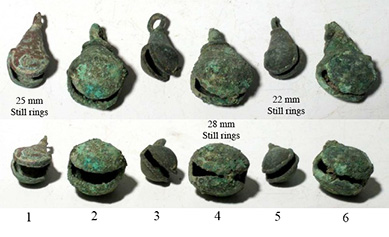 Mayan, c. 500 - 800 AD. Nice group of six Maya copper bells from Tazumal, El Salvadore. Each nicely detailed and formed part of the exclusive jewelry and ornamentation worn by elite individuals. Some still ring! Largest measures 1 1/8" high. Cf. Guzman,
Museo National de Antropologia
, page 118. Rare! Ex East Coast USA collection. #A09296-6: SOLD OUT!
---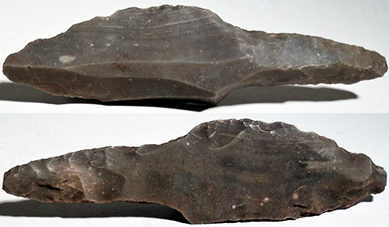 Mayan, c. 250 - 700 AD. Great and large Maya blade from Belize. A fine uni-face flint dagger or spear point with a bi-facially flaked tang. L: 16 cm (6 1/4") with strong mineral deposits, edges still sharp! From the collection of Arthur Pecou, New Orleans, LA. #PR2269: $375 SOLD
---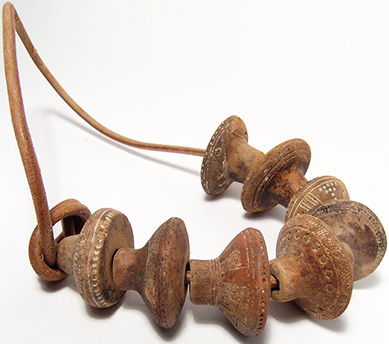 Early Mayan, c. 900 – 300 BC. A group of 8 large Mayan ceramic spindle whorls, each decorated with incised geometric decoration with light deposits. Strung into a necklace. Ex Oxford, UK private collection. #PR2277: $399 SOLD
---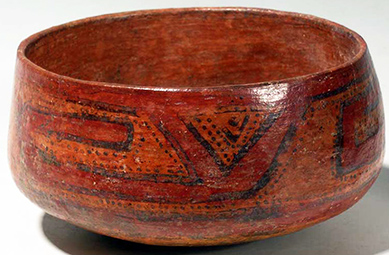 Mayan, c. 400 - 700 AD. Fine Maya polychrome bowl from El Salvador. This lovely example is decorated with various glyphic symbols. Vivid paint, good mineral deposits. W: 6"; H: 3". From the collection of Lee Tango, Cape Coral, FL; Ex-Chuck Warren (International Limited), Coconut Grove, FL, purchased in the 1970's. #PR2279: $450 SOLD
---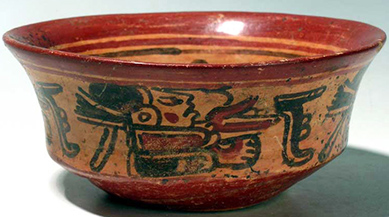 Ancient Mayan, c. 400 – 700 AD. Excellent Maya Chiefs bowl from El Salvador. Heavily decorated with polychrome design features a group of four seated lords presenting an offering. The interior has four vultures surrounding a central Lamat glyph, which symbolizes the eighth day of the ritual calendar and is associated with the Heavenly Dragon. Did: 6-1/2". Intact, with vivid paint, good mineral deposits and ribbed base. Provenance: Ex Tribal Treasures Gallery, Tucson, AZ; From the estate of Oscar Zelenya, Germantown, MD. Gorgeous! #PR2287: $850 SOLD
---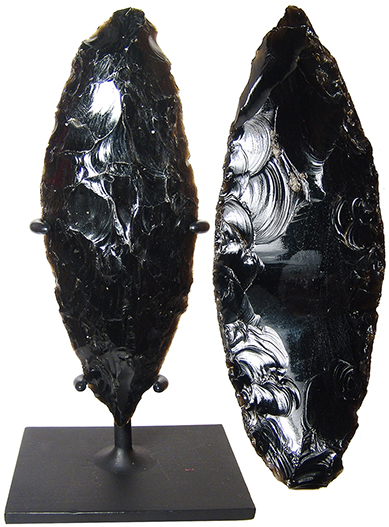 A large Maya spear blade from southern Mexico, ca. 400 – 800 AD. This unusual arched example is made from black obsidian, its nicely flaked edges are still sharp. L: 6 7/8", W: 2 1/2". With custom metal base (entire piece stands 8" tall. Ex New York estate; ex Arte Xibalba, FL; ex G Vandervort personal collection, Los Angeles, CA. #PR2234: $525 SOLD
---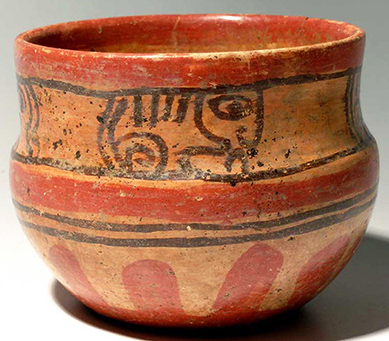 A fine Maya glyph jar from El Salvador, c. 500 - 800 AD. This nicely painted polychrome vessel is 5-1/2" in diameter and is decorated with a band of intricate Maya glyphs. The lower half of the chamber is painted with connected linear designs to create the pumpkin or melon effect. Intact, with just some hairline age cracks, great color and good mineral deposits. From the collection of Daniel Sixco – Atlanta, GA; ex-Arte Xibalba, FL. #DJG007: $650 SOLD
---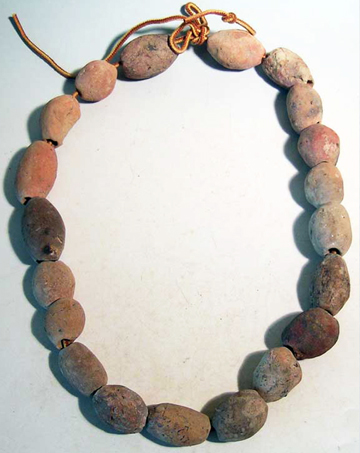 Maya, c. 400 - 700 AD. A large strand of huge Mayan ceramic beads from Honduras. The strand measures 27 1/2" (69.8 cm) long and consists of 20 unusually large ceramic beads, in earth tones from brown to reddish-pink, light earthen deposits. Found on Roatan Island in the 1960's. Ex Medlin collection. #PR2125: $199 SOLD