---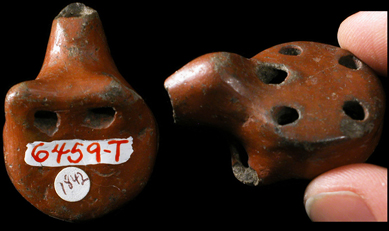 Ancient West Mexico, c. 250 BC - 250 AD. Great ceramic whistle or ocarina in the shape of an animal. Flat and round with an animal's head, the surfaces nicely burnished. Old museum or collection numbers painted on bottom. 1 5/8" (41 mm). Ex Indiana private collection. #PR2036: $250 SOLD
---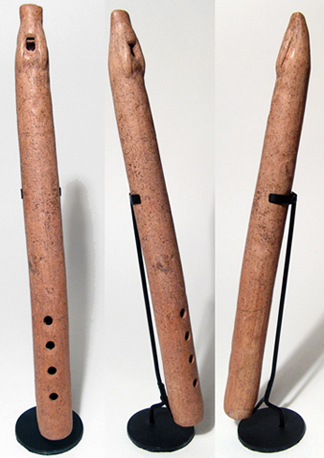 A nice ceramic flute from West Mexico, c. 200 BC - 200 AD. Of simple tubular design three raised projections on either side of the mouthpiece, four holes near the end. Then red slip has fired black due to over-firing. A nice example and still quite functional with lovely sound! 12 1/4" (31.1 cm). A couple repairs to shaft, nice deposits, custom stand. Ex Northern California private collection; Ex CO private collection, acquired in the 1960's. #PR2119: $550 SOLD
---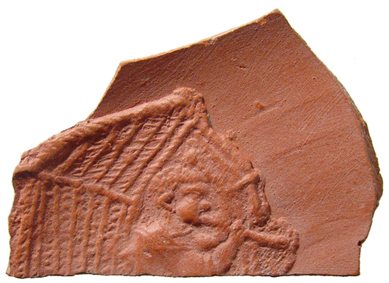 Rare Depiction of a Musical Instrument!
Roman North Africa, c. 5th Century AD. Fabulous red-ware pottery sherd depicting the Tree Man. He sits within a woven surrounding, playing a wind instrument. Ref: Ennabli 1976. Pl. III no. 80; cover photo for the book
Light from the Age of Augustine
p.61. no. 51. Measures 65x46 mm (2 1/2" x 1 3/4"). Ex Santa Barbara County, CA collection. #AR2254: $299 SOLD
---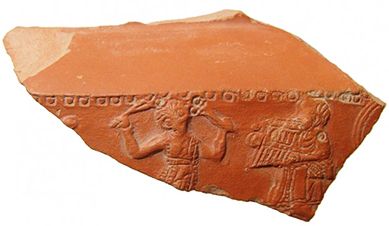 Roman red-ware plate fragment with musician and dancer!
The Wedding of Thetis and Peleus. Published!
This is NOT Pre-Columbian, but a spectacular and very rare Roman depiction of ancient musicians and dancers!
Roman North Africa, AD 350 - 420. Beautiful Roman red-ware shard depicting wedding of Thetis and Peleus. A woman dances and plays the castanets, with another musician plays the pan pipes. 3 3/4" x 2" (9.7 x 5 cm). Published in Cornelius Vermeule's Light from the Age of Augustine p. 75, no. 75 (this piece); cf. Garbsch and Overbeck 1989 fig. 194. This fragment belonged to Cornelius C. Vermeule who was the curator of the Boston Museum of Fine Arts. This piece has also been published in Light from the Age of Augustine by John J. Herrmann Jr. and Annewies Van Den Hoek; Ex Northern California private collection. #AR2676: $499 SOLD
---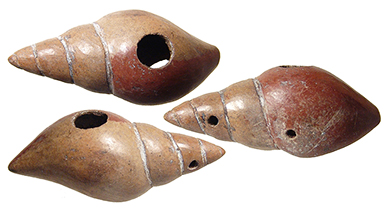 Narino, Colombia, c. 850 - 1000 AD. Excellent small ocarina in the form of a sea-shell. Intact with beautiful reddish-tan burnished surfaces, holed through for suspension. 50 mm (1 15/16"). Would still make a nice pendant!Ex Joel L. Malter collection, Encino, CA. #PR2205: $199 SOLD
---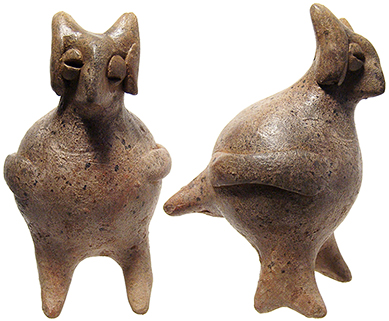 Colima, West Mexico, 100 BC – 250 AD. A very cute Colima standing horned owl whistle. With great tone which sounds startlingly like an owl, even 2000 years after it was made. The body rounded with short tail and bifurcated feet. 4" x 3" (10.2 x 7.6 cm). Well preserved with attractive mottled deposits. Ex Southern California private collection, acquired in the 1970's. #PR2276: $475 SOLD
---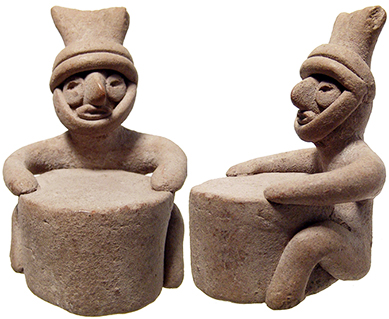 Colima, West Mexico, 100 BC – 250 AD. Excellent Colima ceramic drummer whistle. Depicted wearing a tall headdress with chin strap, his feet straddle the large drum he beats with both hands. H: 3 1/4" (8 cm). Nice high-pitched tone, light deposits. Ex Southern California private collection, acquired in the 1970's. #PR2275: $475 SOLD