Side, Pamphylia. Silver tetradrachm of 155-136 BC. Head of Athena rt. in crested Corinthian helmet / Nike advancing left, holding wreath & lifting drapery, pomegranate in left field, magistrate's name KLE-YX. #4011: $385 SOLD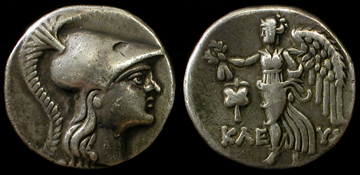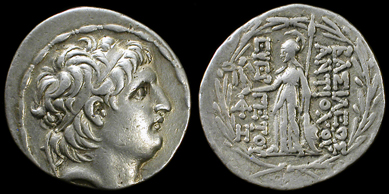 Seleucid Kingdom, Antiochus VII Euergetes, 138-129 BC. Silver tetradrachm, Antioch mint. Diademed head of Antiochus right / Athena standing left, supporting Nike who holds a wreath on extended right hand & resting left hand on grounded shield, vertical spear propped against left arm. DI monogram above H in outer left field,

, all within wreathed border. ref: Newell 282 (sim). Huge 31.5 mm, 14.46 grams! Absolutely gorgeous coin. EF! #85712x2: $650 SOLD
---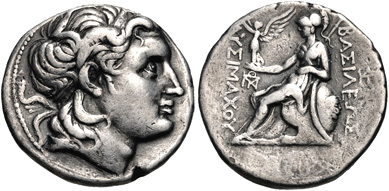 Portrait of Alexander by someone who knew him!

Ancient Greece, Kings of Thrace. Lysimachos, 305-281 BC. Silver tetradrachm, Amphipolis mint. Struck 288-281 BC. Diademed head of deified Alexander the Great right, with horn of Ammon / Athena Nikephoros seated left, left arm resting on shield, spear behind; monograms to inner left and outer right. BASILEWS LYSIMAXOY. 29mm, 16.78 g. ref: Thompson 201; Muller 543 v. VF, toned, rare and nice! #cng2640015x2: $875 SOLD
---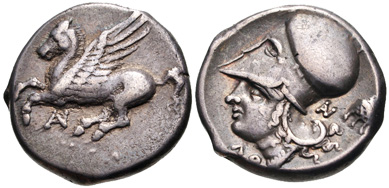 Ancient Greece. Akarnania, Anaktorion. Circa 320-280 BC. Silver State. Pegasos flying left, monogram below / Helmeted head of Athena left; LO below chin, monogram and omphalos behind. Pegasi 36 var.; BCD Akarnania 105 var. 20mm, 8.54 g. Good VF, nicely toned. From the Deyo Collection. Ex Coin Galleries (18 July 1973), lot 233. #cng2660102: $599 SOLD
---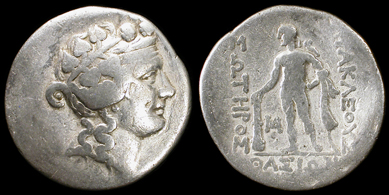 Ancient Celtic large silver tetradrachm, minted at the Greek island of Thasos, 2nd century BC. Bust of Dionysos right, wreathed in ivy / A rather swishy Herakles holding club, drapery over shoulder. Celticized-Greek inscription HEPAKLEOYS SOTHPOS THASION. Large 32 mm, 16.26 grams. Slightly wavy flan common to these. Excellent detail! #21031x2: $325 SOLD
---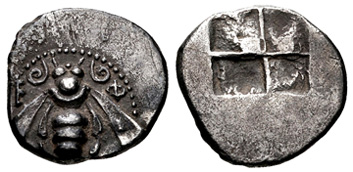 Ephesos (Ephesus), Ionia. Circa 500-420 BC. Silver Diobol.
Bee, EPH to sides / Quadripartite incuse square. ref: Karwiese Series V, 2A; SNG Kayhan 124. Beautiful VF, with original find patina. 11 mm, 1.05 g. From the Daniel Koppersmith Collection. Ex Classical Numismatic Group Electronic Auction 259 (6 July 2011), lot 115. Gorgeous! #CG2062: $299 SOLD
Istros, Thrace, 4th century BC. Silver drachm. Facing male heads, one inverted / Sea-eagle on the back of a dolphin, ISTPIS. Theta behind, Sigma below. 18 mm, 5.7 g. $250 SOLD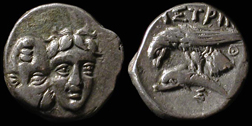 ---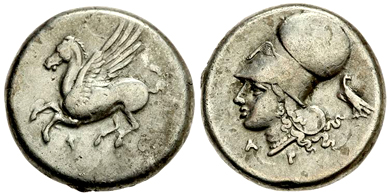 Ancient Greece. Corinthia, Corinth. Circa 375-300 BC. Silver Stater. Pegasus flying left / Head of Athena left, wearing Corinthian helmet; A-P at neck; behind, eagle standing left. Pegasi I 426; BCD Corinth 101. VF, well centered, lightly toned. A beautiful example! 20mm, 8.51 g. #gv0797: $499 SOLD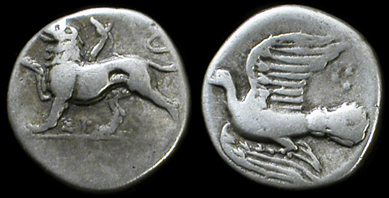 Ancient Greece. Sikyonia, Sikyon, c. 360-330 BC. Silver hemidrachm. Chimera advancing left, forepaw raised, monogram below / Dove flying left. Nice toning. 15.5 mm, 2.69 g. #11DS977x2: $250 SOLD
---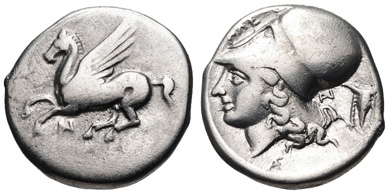 Ancient Greece. Akarnania, Anaktorion. Circa 350-300 BC. Silver Stater. Pegasus flying left / Helmeted head of Athena left; KLE above, monogram below, monogram and filleted bucranium behind. ref: Pegasi 71; BCD Akarnania 86. Near VF. 22mm, 8.07 grams. Perfectly aligned for a bezel. #cng2760128: $599 SOLD
---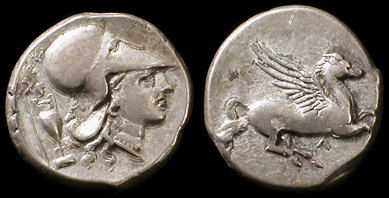 Ancient Greece. Akarnania, Leukas, c. 345-307 BC. Silver stater. Helmeted head of Athena right; amphora with grapes and "A" behind / Pegasus flying right, lambda below. 21 mm, 8.57 g. and very thick! Excellent coin. ex-Virginia collection. #2602: $599 SOLD
---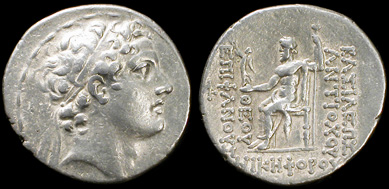 Seleucid Kings of Syria. Antiochus IV Epiphanes, 175-164 BC. Large and magnificent silver tetradrachm, struck 168-164 BC. Diademed head of Antiochos IV right / Zeus enthroned left, holding Nike on extended right hand & sceptre in left, palm branch in outer left field, LB monogram & AS in ex. BASILEWS ANTIOXOY QEOY EPIFANOYS NIKHFOROY. 31 mm, 16.72 g. ref: Morkholm 17. Excellent portrait, crisp detail. VF. #GC2004x2: $525 SOLD
---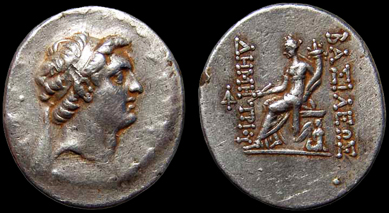 Kings of Syria. Demetrius I, 162 – 150 BC. AR Tetradrachm, Dated "159," 154-153 BC. Antioch mint. His diademed head rt., fillet border. / BASILEOS DEMITRIOY SOTEROS, Tyche seated lt., holding sceptre and cornucopiae, control mark in lt. field. 32x28 mm, 16.76 g. ref: Spaer 1256. VF. Fantastic piece! #GV0609x2: $375 SOLD???
---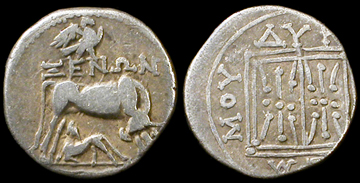 Ancient Greece. Illyria, Dyrrhachium. Silver drachm struck after 229 BC. Cow suckling calf, ZENWN, eagle above / Double stellate "temple door" pattern, Greek around. 17.5 mm, 3.26 g. VF+. Extremely nice! #25313x2: $125 SOLD
---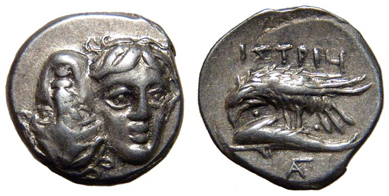 Moesia, istrus. 400-350 BC. Silver drachm. Two male heads facing, the rt. inverted. / Eagle flying lt., attacking a dolphin with its talons, AG below. 18 mm, 5.45g. ref: BMC 6; SNG BM 249; Pick 417. VF, nice metal. #mtp499: $250 SOLD
---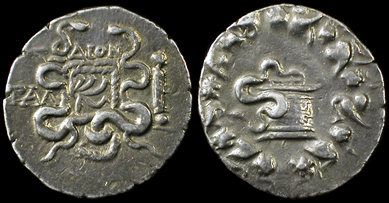 Greece. Lydia, Tralleis. Silver tetradrachm struck 166-67 BC. Dion, magistrate. Bow case with serpents entwined around; DION above, PAL to left, herm to right / Cista mystica with serpent, all within ivy wreath. ref: SNG von Aulock 3259; SNG Copenhagen 657v. 12.63 grams, 26 mm and thick! #18391: $399 SOLD
---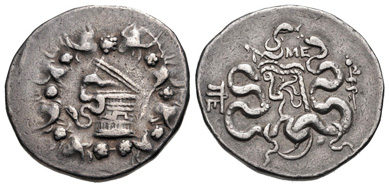 Ancient Greece. Pergamon, Mysia, c. 166-67 BC. Silver cistophoric tetradrachm, struck 123-104 BC. Cista mystica with serpent; all within ivy wreath / Bow case with serpents; ME above, thyrsos to right. 26 mm, 12.58 g. Kleiner, Hoard 18. VF, with stunning detail, and nice cabinet tone. #CG2061: $425 SOLD
---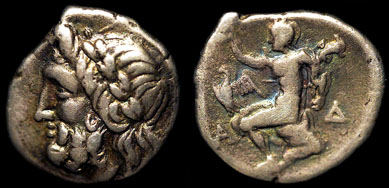 Peloponnesus, Arcadian League, 280-234 BC. Silver triobol. Laureate head of Zeus left / Naked Pan seated l. on rock, rt. hand raised, holding lagobolon in left, before him eagle flying left, Delta to rt. NIce VF, bluish toning. ref: BM-78v, Sear-2690. 14 mm, 2.11 grams. Beautiful! #68184: $225 SOLD