---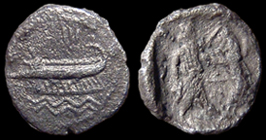 Phoenicia, Sidon, 372-340 BC. Silver 1/16 Shekel. War galley left / Persian king standing right, battling lion standing left on hind legs, Phoenician letters between, all in shallow incuse square. 10 mm, 0.57 g. ref: BMC 34-84. ex-CNG. Outstanding! Much better than the photo. A mini-masterpiece! #CG2099: $150 SOLD
---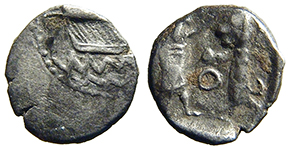 Phoenicia, Sidon, 372-340 BC. Tiny silver 1/16 Shekel. War galley left / Persian king standing right, battling lion standing left on hind legs, Phoenician letters between, all in shallow incuse square. 9.5 mm, 0.63 g. ref: BMC 34-84. ex-CNG. #CG2104: $125 SOLD
---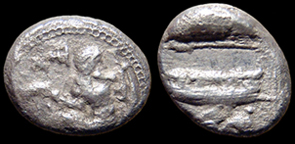 Phoenicia, Arados. c. 430 - 410 BC. Silver 1/3 stater or Siglos. Marine deity (Ba'al-Arward) right, holding a dolphin / Galley right. 14x12 mm, 3.22 g. ref: Sear 5968 var. #CG2094: $175 SOLD
---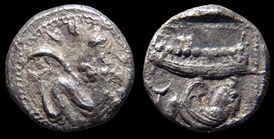 Arados, Phoenicia, 400-350 BC. Silver tetrobol. Phoenician inscription ma, merman or marine deity with human torso & fish tail swimming right, holding dolphin by tail in each hand / Galley right, with row of shields along bulwark, hippocamp below, swimming right; all in incuse square. 12 mm, 1.46 g. ref: Grose 9443, Trait' II 808, BMC 7, SG5968. #CG2095: $199 SOLD
---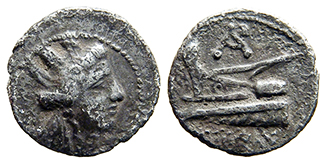 Phoenicia, Arados. Late 3rd century BC. Silver hemidrachm. Turreted head of Tyche right / AR monogram above prow of galley left. 15 mm, 1.96 g. ref: Sear #5999v. #CG2101: $125 SOLD
---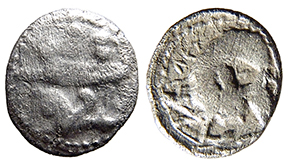 Arados, Phoenicia, 400-350 BC. Tiny silver 1/24 Shekel. Galley left, hippocamp below, swimming left / Merman or marine deity with human torso & fish tail swimming right, Phoenician inscription. 10x9 mm, 0.72 g. ref: Grose 9443, Trait' II 808, BMC 7, SG5968. ex-CNG. #CG2108: $75 SOLD
---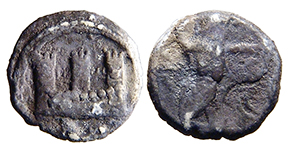 Phoenicia. TINY silver 1/16th Shekel. Abdeshmun, c 410-400 BC. War-galley to left before battlemented city wall with three towers, two lions back to back in exergue / King of Persia standing right, drawing bow; incuse head of Bes to left, incuse head of goat to right. 9 mm, 0.91 g. ref: BMC 14, Betlyon 9. Better than photo. A mini masterpiece! #CG2107: $125 SOLD
---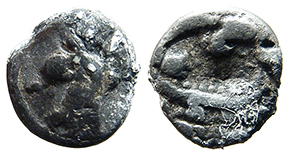 Ancient Phoenicia, c. 4th-3rd century BC. Silver 1/4 shekel. Head of a stag (deer) left / Phoenician war galley full of oarsmen. 12 mm, 2.73 g. ex-CNG. #CG2100: $75 SOLD
---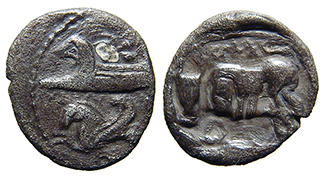 Ancient Phoenicia, Byblos, c. 4th-3rd century BC. Silver fractional shekel. Phoenician war-galley left, hippocamp swimming left below / Lion attaching a bull, Phoenician inscription above. 16 mm, 3.11 g. ex-CNG. Glorious detail! #CG2102: $199 SOLD
---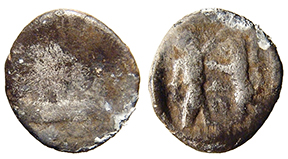 Phoenicia, Sidon, 372-340 BC. Tiny silver 1/16 Shekel. War galley left / Persian king standing right, battling lion standing left on hind legs, Phoenician letters between, all in shallow incuse square. 10 mm, 0.61 g. ref: BMC 34-84. ex-CNG. #CG2111: $75 SOLD
---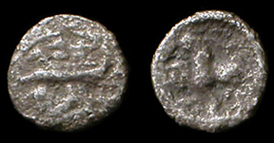 Phoenicia, Byblos. King Adramalek, c 4th Century BC. Silver 1/8 Shekel. Galley left with two hoplites; hippocamp below / Lion left, attacking a bull, Phoenician script around. ref: BMC 10, SG 6010. Tiny 9 mm, 0.35 g! ex-Malter Galleries, Encino CA. #CG2078: $99 SOLD
---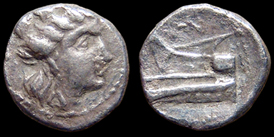 Phoenicia, Arados. c. 3rd Century BC. Silver Hemidrachm. Head of Tyche right, wearing turreted crown; border of dots / Prow of galley left; monogram above. ref: BMC 87. 12 mm, 1.87 g. #CG2096: $150 SOLD
---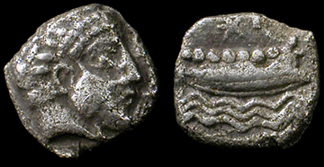 Phoenicia. Arados, c. 400-350 BC. Silver Stater. Laureate head of sea-god right / Galley to right above triple waves; figure-head on prow, star and Phoenician letter above. 15.5 mm, 3.01 g. ref: BMC36. Very nice! Much better than photo. #CG2093: $175 SOLD
---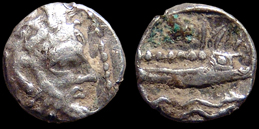 Phoenicia, Arados. c. 400 - 350 BC. Silver 1/24 Shekel. Head of Marine deity right / Galley with waves. 9 mm, 0.68 g. ref: BMC 45-53, SNG Fitz. 5993, Rouvier, 18. #CG2098: $125 SOLD
---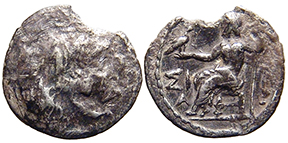 Alexander the Great of Macedon, 336-323 BC. Tiny silver obol, struck at Sidon, in Phoenicia. Head of Herakles right, wearing Nemean lion's skin / Zeus seated left, holding eagle and sceptre,

behind, Sigma before. Just 10 mm, 0.47 grams! ref: Sear 6736v. One chipped edge. Excellent, intricate detail on the back. Very rare. ex-CNG. #CG2106: $99 SOLD
Phoenicia, Tyre. 15-16 AD. Bronze drachm. Head of Tyche right, palm-branch behind. / Galley left, with prow terminating in volute and aphlastron at stern. Inscription above. ref: BMC Phoenicia 256.. 20 mm, 5.59 g. #CG2040x2: $150 SOLD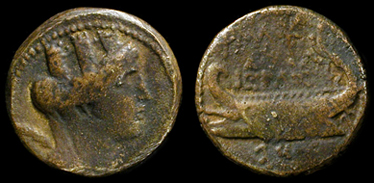 ---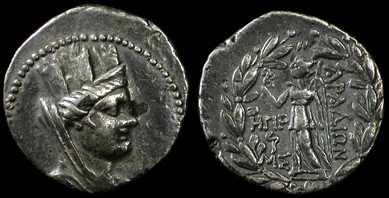 Phoenicia, Arados. Silver tetradrachm, c. 184 BC
Turreted & veiled head of Tyche right / Nike walking left, holding a palm. APADION (Arados), monograms within wreath. 26 mm, 15.0 g. #205: $350 SOLD
---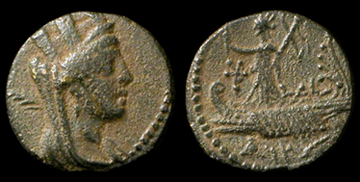 Phoenicia, Tyre. 113-112 BC. Bronze AE16. Turreted head of Tyche right / Astarte standing left on galley, date across, TY monogram of Tyre to left, Phoenician inscription below. ref: BMC 248, Sear 5922v. 16 mm, 2.73 g. ex-Colosseum Coin Exchange. Gorgeous patina, excellent detail! #CG2077: $225 SOLD
---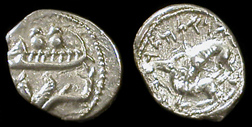 Ancient Phoenicia, City of Byblos. King Adramelek, 400-330 BC.
Silver 1/8th shekel. Ship with warriors & shields, sea monster swimming below / Lion attacking bull, Phoenician inscription. Scarce and mint state! ref: sear 6010. 12 mm, 0.8 grams. #893: $125 SOLD
---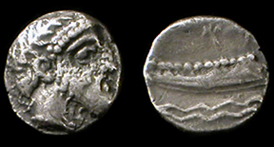 Phoenicia, Arados, 400-350 BC. Silver 1/12 stater. Wreathed and bearded head of Melkart right / Galley to right; eye on prow, OX above. ref: BMC 45, Sear 5973. Tiny 9 mm, 0.76 g. A mini-masterpiece! Truly a beautiful example. #CG2076: $199
SOLD - Alternates Available!