---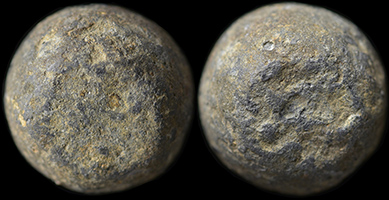 Small caliber lead pistol shot recovered from the submerged ruins of Port Royal. A true pirate bullet. It appears to have been used as it is flattened on two sides! Diameter 14mm (9/16 inch). Nice gray patina. It was found submerged in the ruins of the sunken pirate city. This came from the collection of a 94 year-old Jamaican resident whose father was a close friend and diver alongside the famous Sir Robert F. Marx during their three year excavation of the sunken city in the early 1960's. Marx devoted much of his life to exploring the sunken city, and wrote over 60 books and articles on the topic. From the collection of a close personal friend of Marx; ex Katy, TX private collection. Incredibly rare! #CS2580: SOLD
---
This buckle has been professionally conserved with an emphasis on leaving some of the original elements of encrustation/patina intact. It is 100% authentic and comes from an extensive private collection of pirate/Port Royal artifacts amassed by a diver who worked there alongside Sir Robert Marx. It is exceptionally rare to have the entire buckle with both the buckle frame and chape components together!
---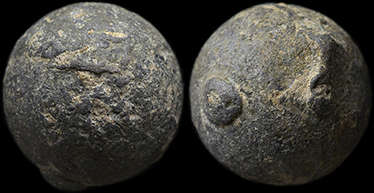 Rare pirate lead musket ball / pistol shot, recovered from the remains of a brothel/tavern on the corner of High Street and New Street in Port Royal, that survived the June 7th, 1692 earthquake and tsunamis that caused the majority of the Port Royal city to sink into the harbor and leveled most of the remaining buildings. Diameter 17.5 mm (about 11/16"). ex Robert F. Marx collection, author of the book "Port Royal: The Sunken City." This came from a close personal friend of Marx and is from excavations he conducted from 1964-1968. #CS2617: $550: SOLD
---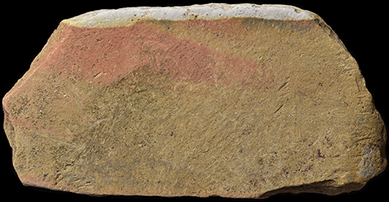 Port Royal, Jamaica. A large ceramic pot shard recovered from the sunken ruins of the homes and taverns smashed into the sea during the devastating earthquake and tsunamis of 1692. From the collection of George P. Scott, who excavated Port Royal off and on between the 1960's and 1980's; Ex Robert Marx & Seller's Artifacts. #CS2624: $85 SOLD - Ask about other pot shards!
---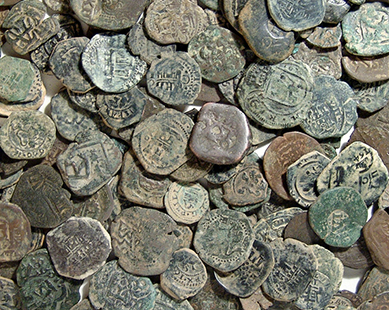 See Also: Inexpensive Spanish Copper "Pirate" Coins!
(Found in Spain, not from Port Royal)
---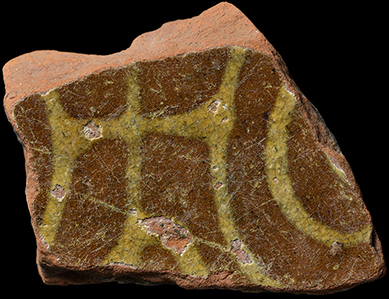 From the sunken ruins of Port Royal, a nice fragment of English Slipware pottery. Brick-red color, with a red-brown glaze and yellow painted details. Measures 2 1/4" x 1 1/4" and quite thick. Recovered near the sunken remains of the tavern called "The Shippe" (est. 1674) which fronted North on Queen Street facing Port Royal Harbor. From the personal collection of a co-diver and colleague of Sir Robert F. Marx, who excavated parts of the sunken city of Port Royal in the 1960's. #CS2670: $325 SOLD
---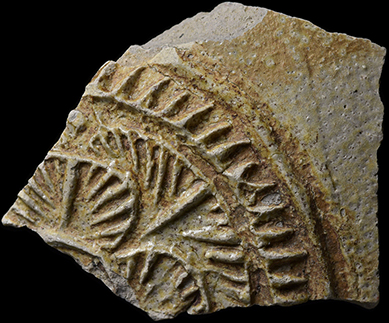 From the sunken ruins of Port Royal, a fantastic fragment from a Dutch Saltglaze Bellarmine Bartmann jug. Silvery-grey color, with high-relief details, excellent texture. Measures 2" x 1 3/4". Recovered near the sunken remains of the tavern called "The Shippe" (est. 1674) which fronted North on Queen Street facing Port Royal Harbor. From the personal collection of a co-diver and colleague of Sir Robert F. Marx, who excavated parts of the sunken city of Port Royal in the 1960's. #CS2673: $399 SOLD
---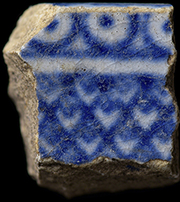 From the sunken ruins of Port Royal, a neat but tiny fragment of Dutch/English Delftware Chinoiserie pottery. Although small, it has nice vibrant blue color. Measures 3/8" x 3/8". Recovered from the sunken ruins of the homes and taverns smashed into the sea during the devastating earthquake and tsunamis of 1692. From the personal collection of a co-diver and colleague of Sir Robert F. Marx, who excavated parts of the sunken city of Port Royal in the 1960's. #CS2662: $125 SOLD
---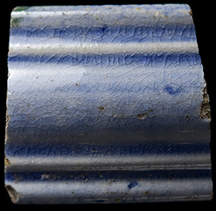 From the sunken ruins of Port Royal, a small fragment of Dutch/English Delftware Chinoiserie pottery, likely the rim of a teacup. It has multiple ridges with varying shades of blue still present. Measures 5/8" x 5/8". Recovered from the sunken ruins of the homes and taverns smashed into the sea during the devastating earthquake and tsunamis of 1692. From the personal collection of a co-diver and colleague of Sir Robert F. Marx, who excavated parts of the sunken city of Port Royal in the 1960's. #CS2664: $125 SOLD
---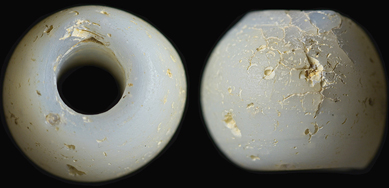 A large white glass trade bead, recovered near the sunken remains of the tavern called "The Shippe" (est. 1674) which fronted North on Queen Street facing Port Royal Harbor. Imagine Johnny Depp's character of Captain Jack Sparrow, with the beads in his hair and beard... this is most likely how this bead ended up in "The Shippe" tavern, and lost along with its owner, as the tavern and everything and everyone inside got swallowed up by the sea. Measures 13mm diameter and intact save for some chips and cracks. Amazing for such a fragile, small artifact to be found at the point of disaster so many centuries later! From the collection of a co-diver and colleague of Sir Robert F. Marx, who excavated parts of the sunken city of Port Royal in the 1960's. #CS2783: $250 SOLD
---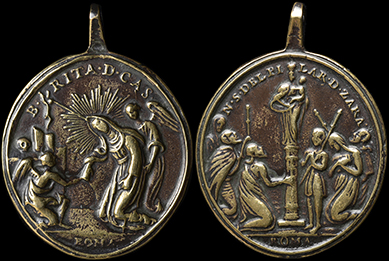 Port Royal! Saint Rita's Religious Medal, late 1600's AD, just prior to the earthquake. A large pendant, measuring 45mm (1 3/4") high, and professionally conserved, with gorgeous deep bronze toning. The front depicts Saint Rita bowed in prayer, with cherubs and angels around, "B.S. RITA.D.CAS", ROMA below / The back witn a pillar holding Mary and infant Jesus, Romans and Apostles praying around, N.S.DEL.PILAR.D.ZARA around, ROMA below. Recovered near the sunken remains of the tavern called "The Shippe" (est. 1674) which fronted North on Queen Street facing Port Royal Harbor. From the collection of Sir Robert Marx! This medallion was recovered in the 1960's and personally researched by Marx. This is definitely the gem of this collection! #CS2622: $850 SOLD
---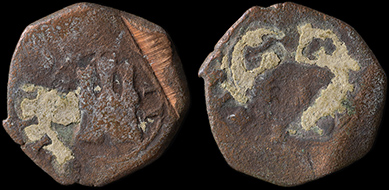 Copper Pirate coin recovered from the submerged ruins of Port Royal. A copper "cob" struck under Philippe III of Spain, c. 1598-1621. It depicts a castle on one side, and a lion on the other, mostly worn away from age. Diameter: 16mm (5/8 inch). It was found submerged in the ruins of the sunken pirate city. This came from the collection of a 94 year-old Jamaican resident whose father was a close friend and diver alongside the famous Sir Robert F. Marx during their three year excavation of the sunken city in the early 1960's. Marx devoted much of his life to exploring the sunken city, and wrote over 60 books and articles on the topic. From the collection of a close personal friend of Marx; ex Katy, TX private collection. #CS2578: SOLD
---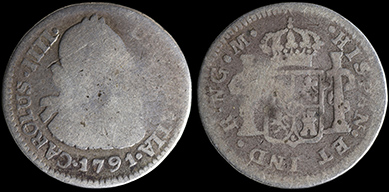 Rare silver Spanish coin found in the ruins of Port Royal. Dated 1791 it was struck after the city was destroyed, but during the time that pirates continued to frequent the port as a safe-harbor. The coin depicts right facing bust of Carlos IV of Spain, with legend CAROLS IIII DEI GRATIA 1791 / Spanish royal coat-of-arms between two pillars. Diameter 17mm (5/8 inch), weighs 1.51 grams. It was recovered from between the floorboards in a circa 1600's stone building on the waterfront which was torn down in the 1950's. This coin was in the collections of the Port Royal museum on the island which closed down and their collections sold to pay off debts in a period of few visitors to the island. Many artifacts from their collection was purchased by Joseph Becker, a retired US Navy diver who spent years diving the ruins of the old port. The coin is accompanied by a certificate of authenticity, as well as signed Joseph Becker letter. ex-Joseph Becker collection; ex Virginia private collection. #CS2573: $160 SOLD
---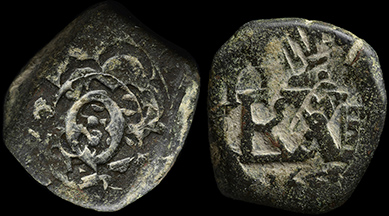 Copper Pirate coin recovered from the submerged ruins of Port Royal. A copper 8-Maravedis "cob" of Philippe III, 1598-1621 AD. Originally depicted a castle & lion. Counter-stamped with "BX" and date "1652" on one side and a clear "8" and "41" on the other from when the coin was re-tarriffed under Philip IV (1621-1665) in 1641 and 1652, respectively. 22 x 21 mm, dark olive-green patina with earthen deposits. ex Robert F. Marx collection, author of the book "Port Royal: The Sunken City." This came from a close personal friend of Marx and is from excavations he conducted from 1964-1968. #CS2607: $499: SOLD
---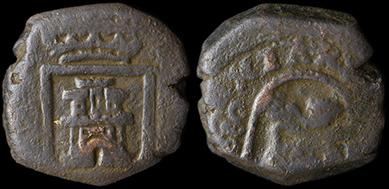 Copper Pirate coin recovered from the submerged ruins of Port Royal. A copper "cob" dated 1680, struck under Carlos II of Spain, who ruled from 1665-1700 AD. It depicts a castle on one side, and a lion on the other, inscription and date "1680." 18mm diameter, dark coppery tone. ex Robert F. Marx collection, author of the book "Port Royal: The Sunken City." This came from a close personal friend of Marx and is from excavations he conducted from 1964-1968. #CS2604: $650 SOLD
---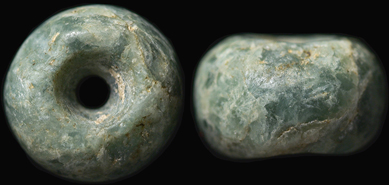 A small green Nephrite Jade trade bead, recovered near the sunken remains of the tavern called "The Shippe" (est. 1674) which fronted North on Queen Street facing Port Royal Harbor. Imagine Johnny Depp's character of Captain Jack Sparrow, with the beads in his hair and beard... this is most likely how this bead ended up in "The Shippe" tavern, and lost along with its owner, as the tavern and everything and everyone inside got swallowed up by the sea. Measures just 7mm diameter! Amazing for such a fragile, small artifact to be found at the point of disaster so many centuries later! From the collection of a co-diver and colleague of Sir Robert F. Marx, who excavated parts of the sunken city of Port Royal in the 1960's. #CS2784: $250 SOLD
---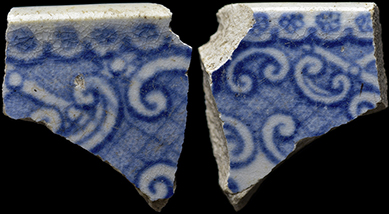 From the sunken ruins of Port Royal, a lovely fragment of Dutch/English Delftware Chinoiserie pottery. #CS2660: SOLD
---

A rare 17th Century ornate brass shoe buckle, recovered near the sunken remains of the tavern called "The Shippe" (est. 1674) which fronted North on Queen Street facing Port Royal Harbor. Measures 1 3/4" x 1 1/4" and is exceptionally well preserved, with incredible detail and patina. Just looking at the usage scratches on the back tells a story! If this buckle could only talk. From the collection of a co-diver and colleague of Sir Robert F. Marx, who excavated parts of the sunken city of Port Royal in the 1960's. This undoubtedly adorned the shoe worn by an unlucky pirate who happened to be drinking at this tavern when the earthquake hit! #CS2762: $550 SOLD
---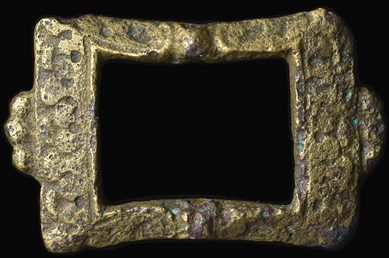 A rare 17th Century ornate brass hat buckle, recovered near the sunken remains of the tavern called "The Shippe" (est. 1674) which fronted North on Queen Street facing Port Royal Harbor. Measures 1 3/16" x 3/4" and is exceptionally well preserved, with original detail still evident around the edges. From the personal collection of a co-diver and colleague of Sir Robert F. Marx, who excavated parts of the sunken city of Port Royal in the 1960's. This undoubtedly adorned the hat worn by an unlucky pirate who happened to be drinking at this tavern when the earthquake hit! #CS2792: $350 SOLD
---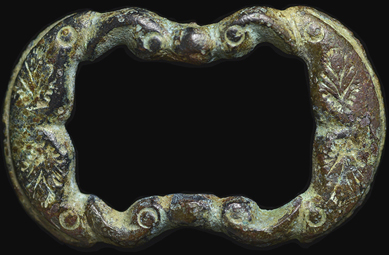 A rare 17th Century ornate bronze buckle, recovered near the sunken remains of the tavern called "The Shippe" (est. 1674) which fronted North on Queen Street facing Port Royal Harbor. Measures 1 3/8" x 3/4" and is exceptionally well preserved, with original detail still evident around the edges. From the personal collection of a co-diver and colleague of Sir Robert F. Marx, who excavated parts of the sunken city of Port Royal in the 1960's. This undoubtedly adorned the clothing or weapons belt worn by an unlucky pirate who happened to be drinking at this tavern when the earthquake hit! #CS2767: $425 SOLD