---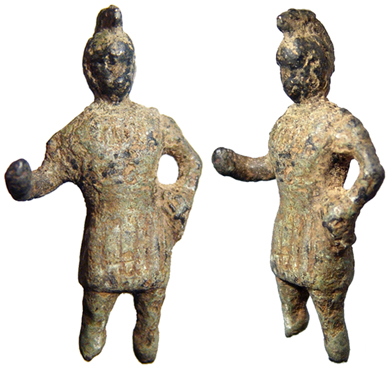 Excellent Roman bronze figure of Mars, 2nd - 3rd Century AD. Found in the Holy Land! He is shown wearing Roman military attire and crested helmet, left hand at his side clenching an uncertain object, right resting on spear (now lost). Some losses to feet and legs. H: 2 1/4" (5.8 cm). Ex Canadian private collection. Very very cool. #0611129x3: SOLD
---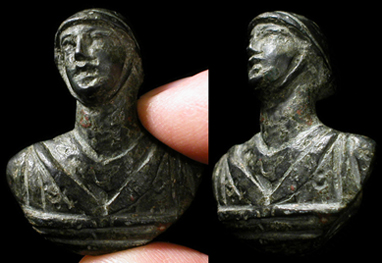 Ancient Rome, c. 1st-3rd century AD. Fantastic bronze chariot fitting depicting the bust of Mars, the god of War. He is shown wearing cuirass and tunic, gazing upward and to the right. His helmet once was adorned with a crest, lost in antiquity. This was likely a chariot element, the remains of the iron rivet still attached to the back. The rounded area behind his neck apparently was used to hang reins or rope, evidenced by signs of wear. to 37 mm (1 1/2") tall, with deep olive-green patina. ex-Gorny & Mosch auction; acquired before 2000 for a South German collection. #AR2033x2: $525 SOLD
---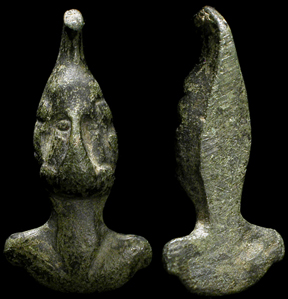 Ancient Rome, c. 1st century BC - 1st century AD. Interesting bronze bust of Zeus. Depicted from the shoulders up, with hair, eyes and muscular neck and shoulders. Likely was part of a handle from a large Greek or Roman vessel. 42 mm (1 5/8") with nice olive-green patina. ex-Los Angeles private collection. #AR2050x2: $150 SOLD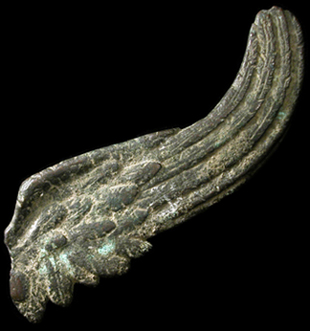 Ancient Rome, c. 1st-2nd Century AD. Excellent and very large bronze wing, likely that of a god. Intact and nicely detailed. Big 112 mm (4 2/8") and heavy! Ex collection of Joseph Klein (1899-1987), New York City. Mr. Klein sought out and acquired these souvenirs as part of his vast collecting interests. Said to have collected in the manner of an 18th century connoisseur, his overall collection showcased his diverse array of artifacts acquired over a period of 45 years and included the art of ancient China, Egypt, Persia, Greece and Rome. #AR2094: $399 SOLD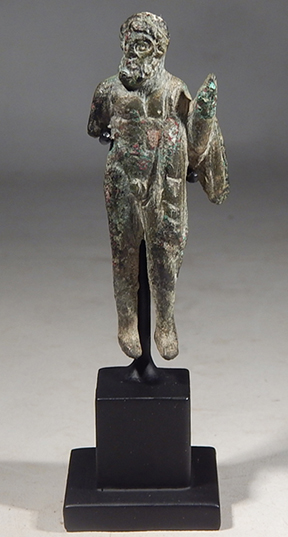 Ancient Rome, c. 1st-2nd Century AD. Wonderful Roman bronze figurine of Jupiter. Depicted standing, nude except for chlamys over shoulder. Repaired at the ankles, missing both hands. 69 mm (2 3/4"). Nice olive-green patina, excellent facial detail and musculature. Comes with custom base. A fantastic display piece! ex-Los Angeles, CA collection. #AR2459: $750 SOLD
---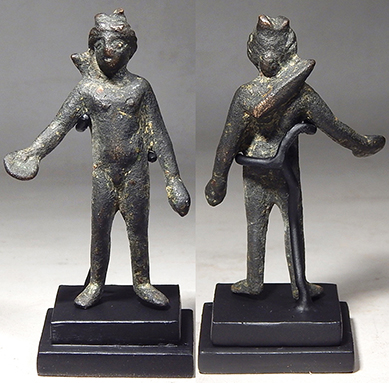 Ancient Rome, c. 1st-3rd century AD. Great bronze figure of Apollo. Depicted standing, quiver on back, holding patera. H: 7 cm (2 3/4"). Olive-green patina with light earthen deposits. With nice custom stand. ex-Los Angeles, CA collection. #AR2554: $750 SOLD
---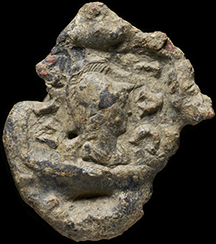 Ancient Rome, c. 1st century BC-1st century AD. Nice lead bulla depicting the helmeted head of Mars, god of War, with a Latin inscription around. 14x18 mm. Nice detail! ex-David Liebert, Time Machine, NY. #AR2856: $250 SOLD
---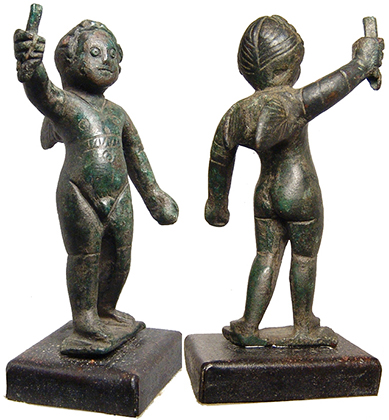 Eros / Cupid!
Etruscan, c. 3rd-2nd century BC. Charming Etruscan bronze figure of winged Eros. He is depicted standing nude on an integral rectangular base, with short wings, right hand raised clutching the base of either a palm-frond or a torch, left hand at his side. His face is rounded with detailed features, hair in curls framing his face. Incised details throughout. H: 2 3/8 in (6 cm). Beautifully patinated and well preserved, mounted on a tall rectangular calcite base. Ex Southern California private collection; ex-I.M. Chait, Beverly Hills, CA. #NAV139: $950 SOLD
---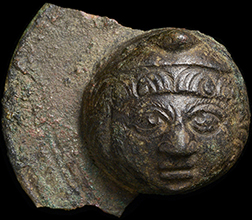 Ancient Rome, c. 1st-3rd century AD. Fabulous bronze discus fragment depicting the Moon goddess Luna! Her facing head is shown with nicely detailed eyes, nose, mouth and hair. This would have been at the center of a discus, likely used as an applique attached to a cultic object. W: 4 cm (1 5/8") with great dark olive-green patina. ex-P. Siegel, Herakles Numismatics. #AR2813: $299 SOLD
---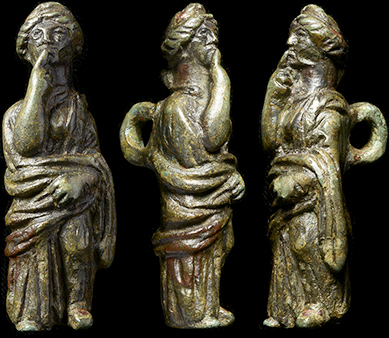 Venus!
Ancient Rome, c. 1st-3rd century AD. Fabulous small bronze statuette of Venus. Depicted draped in robes, holding single finger to her lips. Her other hand raises her robes to expose her left leg. Suspension loop on back to be worn as an amulet or such in ancient times. H: 42 mm (1 5/8"). Excellent green patina. ex-Herakles Numismatics. #AR2703: $850 SOLD
---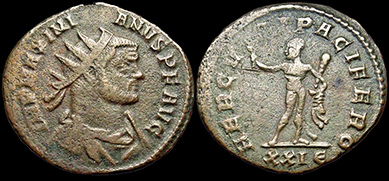 Maximianus, 286-310 AD. Bronze antoninianus with Hercules!
Rome mint, struck 291 AD. His radiate, draped and cuirassed bust right, IMP MAXIMIANVS P F AVG / Hercules standing left holding branch and club, lion skin over arm, HERCVLI PACIFERO. Mintmark XXI-epsilon. ref: RIC 502, Cohen 287. 23 mm, 3.65 g. Incredible detail on Hercules! #CR2654: $150 SOLD
---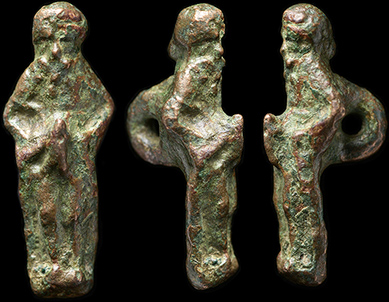 Priapus!
Ancient Rome, c. 1st-3rd century AD. Fantastic small bronze amulet of Priapus. The Roman god of fertility, protector of fruits, plants, and gardens. Shown with his classic permanent oversized erection, Priapus was a popular figure in Roman erotic art and literature. H: 23mm (15/16"), with olive-green to deep coppery patina, suspension loop on back. ex-Los Angeles, CA private collection. #AR2936: SOLD
---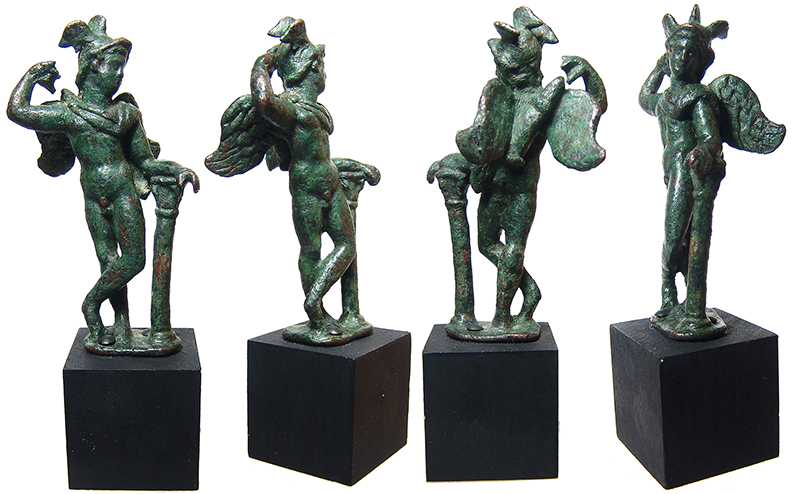 A museum-quality Roman bronze figure of winged Eros, c. 1st - 2nd Century AD
This is a spectacular piece! The youthful deity is depicted nude with chlamys over shoulder and wearing a winged helmet. He stands on an integral base with legs crossed and supported by a low column with decorated capitol, head to left. He reaches back to draw an arrow from the quiver at his back, his right hand presumably held a bow. In beautiful style showing great detail. H: 3 1/8 in (8 cm). Nice glossy green patina and mounted on a black wood base. This is by far the nicest Roman bronze I have ever offered, right out of my personal collection, any museum would be thrilled to have it in their collection! Ex Royal Athena Gallery, New York. #AR2288: $4500 SOLD