---
Ancient India, 12th - 13th century AD. An amazing and HUGE terracotta male head. Measures 7 1/2 inches tall by about 5 1/2 inches wide. About 1/4 expert restoration. A stunning, eye-catching piece! #9817: $425 SOLD
---
Ancient North India. Shunga, 2nd - 1st Century BC
A nice moulded terracotta plaque, depicting a figure standing in front of a date palm. Ex-collection of Richard E.S. Maxson (1925-1975) Amherst, Mass. Ex-Royal Athena Galleries, New York. Mounted on custom stand. 1 7/8" (4.8 cm) tall. #nov15233: $125 SOLD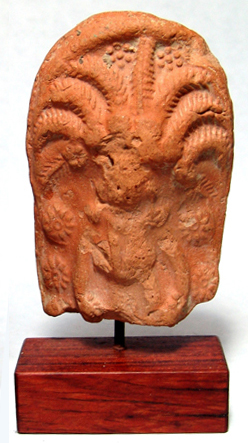 ---
Ancient India. A choice Kushan terracotta head of an ornately attired woman, c. 1st Century AD, superbly detailed and quite attractive. H: 2 1/8" (5.4 cm). Mounted on stand. Ex East Coast private collection. #A12283: $225 SOLD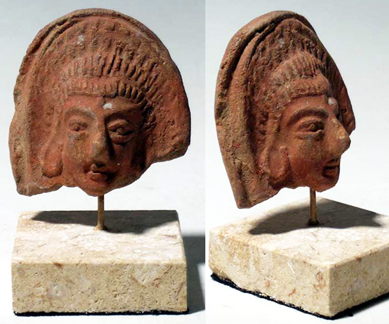 ---
Ancient India, 2nd Century BC. Peshawar Division, Pakistan. A nice figural bust of a woman. The figure is nicely rendered in red terracotta and depicts an ornately adorned female wearing a complex necklace and elaborate headdress. H: 3 1/4" (8.3 cm). Mounted on stand. Ex-Florida collection. #A11344: $199 SOLD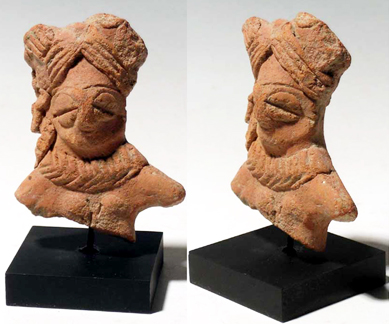 ---
Gandharan. 6th-11th century AD. Early Buddhist carving in terracotta. Depicts a seated Buddha, cross-legged upon a lotus. Intact, shows some fire damage. Measures 46 mm (almost 2 inches) tall. ex-Malter Galleries, Encino, CA. #AP2092: $75 SOLD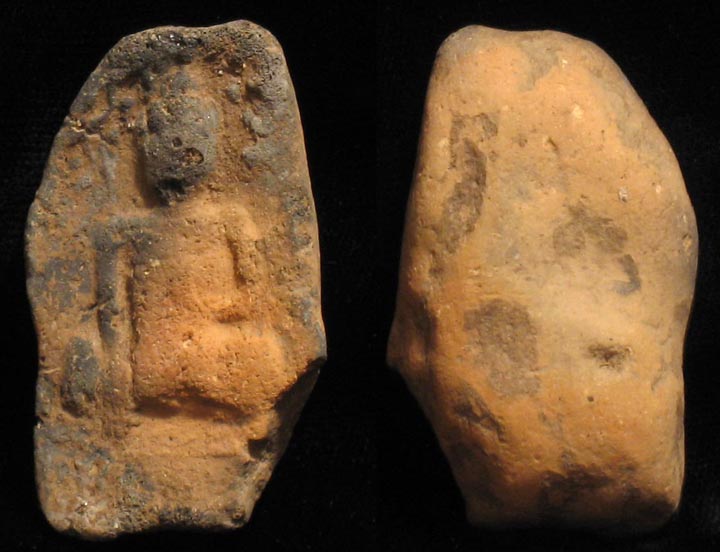 ---
Ancient Indian terracotta head from Uttar Pradesh, Kaushambi, c. 3rd century AD. Gorgeous piece made of reddish-brown terracotta, wearing tall headdress with traces of yellow dressing. Nice facial detail, some losses to top of nose, other wise intact and beautiful! On custom stand. Head measures 47 mm (2") tall, with stand measures 78 mm (3") tall. #271018: $200 SOLD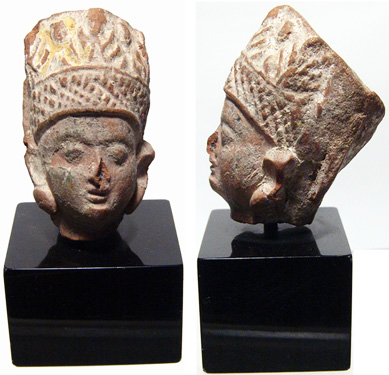 ---
India, Jaipur, Man II, 1922-1929 AD, bronze 2 anna, 194(2).
ref: Y-20. 23 mm, 6.26 g. Neat! #8919: $125 SOLD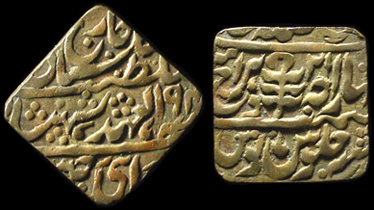 ---
Kushan, India, 1st - 3rd century AD. Great carved-stone oil lamp. Thick and sturdy in design with carefully carved "pinched" spout. Measures 4 1/4 inches x 4 inches by 1 3/8 deep. Ex-Khan family collection, Santa Fe, NM. An interesting piece. #75: $199 SOLD
---
Kushan, India, 2nd - 3rd century AD. A fine blue chlorite stone cosmetics dish, A choice example with multiple chambers and nice decorative designs. Size is 3.75" x 3.25" x 1.25". Ex-Khan family collection, Santa Fe, NM. Rare and nice! #170: $325 SOLD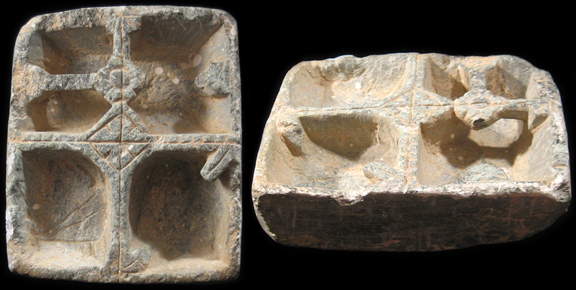 ---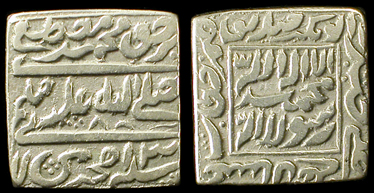 India, Muslim religious souvenir medal, known as "temple token", anonymous, late 19th to mid 20th century AD. 20 mm, 11.31 g. #8918: $125 SOLD
---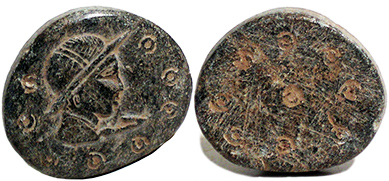 Indus Valley, c. 100 - 300 AD. Incredible rare and very large Ghandaran stone amulet. Carved from the greenish-blue chlorite stone characteristic of the region. Features a helmeted head facing right, surrounded by circular designs on one side, and a series of circular designs on the other. W: 1 9/16" (4 cm), and 5/16" (7 mm) thick! Ex Don Elder - Nokomis, FL; Ex Florida estate. A most impressive piece! I don't even want to let it go. #AP2149: $399 SOLD
---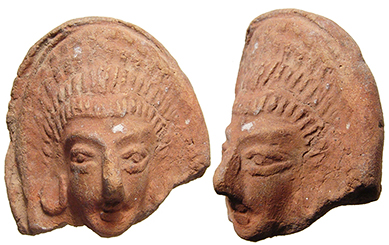 Ancient India. Kushan, c. 1st Century AD. A choice Kushan terracotta head of an ornately attired woman, superbly detailed and quite attractive. Nice reddish color, finger-marks of the maker still visible on back! 2 1/8" x 2 1/8" (5.4 x 54 cm). Ex East Coast USA private collection. #A12283: $175 SOLD
---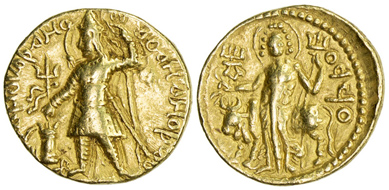 Kushan, India, c. 191-230 AD. Vasu Deva I, Gold stater. Nimbate king standing left, sacrificing over altar, holding filleted trident above altar and resting left hand on sceptre, 2nd trident above altar / Shiva standing facing, holding wreath in right hand and resting left hand on trident, the bull Nandi left behind him, tamgha in upper left field. Large 22 mm, 7.98g. ref: Mitch-3387 ff. VF. ex-Stephen Album. Gorgeous! #CP2107: $2800 SOLD
---
Ancient India, 2nd Century BC. Peshawar Division, Pakistan. A terracotta figural bust of a woman. This nice red terracotta figure depicts an ornately adorned female wearing extensive jewelry and a fancy headdress. H: 3 1/4" (8.3 cm). Mounted on stand. Ex-Florida collection. #A11343: $199 SOLD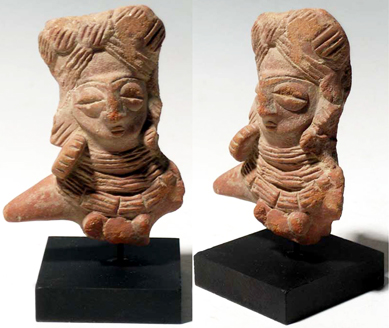 ---
Shunga, ancient India, 2nd - 1st Century BC.
Beautiful hand-molded terracotta statuary head. 2" tall,
originally from a larger figure. Very stylized features and fine details. ex-Malter Galleries, Encino, CA. #shun088: $125 SOLD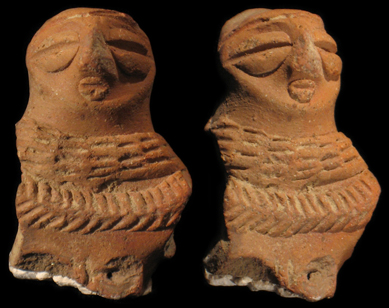 ---
Ancient India, c.10th - 12th Century AD. Moulded terracotta head of perhaps a dignitary or priest, wearing a tall headdress with rosette band and crescent, stands 2 3/4" (7 cm) tall, with some white slip remaining. Custom-mounted on stand. ex-Royal Athena Gallery, NY; Ex-Florida collection. #n15234b: $185 SOLD
---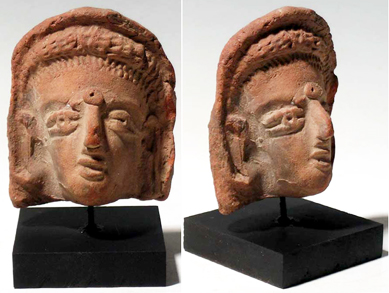 Ancient India. Kushan, c. 1st Century AD. A choice Kushan terracotta female head from a small statue. Nicely detailed and ornately attired. H: 2 3/4" (6.9 cm). Mounted on stand. Ex-Florida collection. #A11348: $275 SOLD
---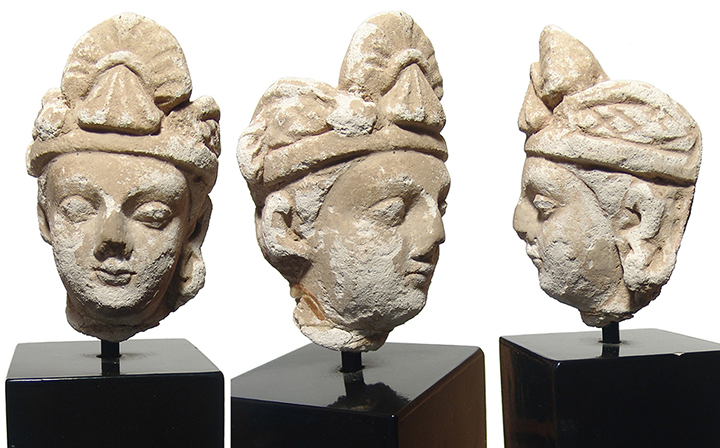 A very large Gandharan stucco head of a Bodhisattva, c. 3rd - 5th Century AD, with placid features and wearing an elaborate headdress with earrings. H: 5 1/4" (13.3 cm). A pleasing example with surface deposits throughout. Mounted on a large rectangular black lucite block base (entire piece stands 9 1/2" tall). Ex Southern California private collection. A fantastic display piece! #AP2472: $850 SOLD