---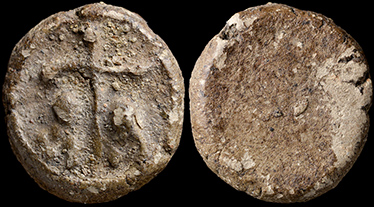 Depicts the busts of Saints Peter and Paul either side of the True Cross. Size: 17 mm. Deep gray color, light earthen deposits. #AH2311: $675 SOLD
---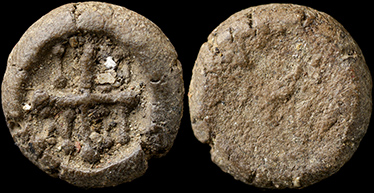 Rare inscription type. Depicts a large central cross with Greek letters H N E I around (photographed upside-down). This is the EXTREMELY rare inscription variety. Each token carries an impression of the True Cross, but instead of the heads of St. Peter and St. Paul, there are Greek letters in the angles of the cross. These letters can be read as H N E I. This may stand for HN EI[ΔOΣ], or "behold the appearance (of the cross)." Size: 17 mm. Deep gray color, earthen deposits. #AH2312: $750 SOLD
---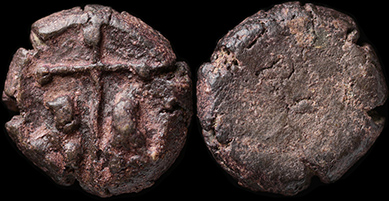 Holy Land. Bulla of the True Cross. An incredible and very rare ancient holy relic! A terracotta token showing the busts of Saints Peter and Paul either side of the Cross. Date: Circa 625 AD. Size: 17 mm. 1.62 grams. Condition: Intact with deep reddish-brown color. Much clearer representations on the obverse than usual for the type. Provenance: The original find was purchased by Baldwins in London circa 1993. There were two main types in the find: the type shown here and a smaller group showing piece of a different type showing legend around the cross. An example of the second type is in the British Museum collection. Mitchiner devotes a full page to the examples in his collection. During the war between the Byzantine and Sassanian Empires during 7th Century AD, Khusru II captured Jerusalem and took the true cross as spoils of war. Taken back to Persia it was regained by Heraclius and taken to Constantinople and then across Asia minor back to its resting place at Jerusalem.
During its return travel legend has it that a piece of the cross was taken and burned, the ashes were then mixed with clay and tokens were made commemorating the return of the true cross to Jerusalem
. The tokens show an impression of the true cross with the heads of St Peter and St Paul in the angles of the cross. Reference: Mitchiner 1062-70; cf.
Pilgrimage: Becket to Elvis
, 1995, no. 82. Ex Baldwin's in 1990's; ex-David Liebert, The Time Machine, NY. #AH2297: $675 SOLD