---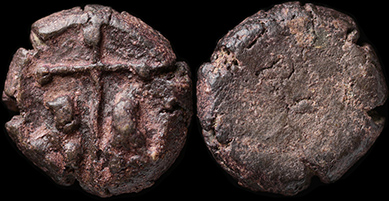 Depicts the busts of Saints Peter and Paul either side of the True Cross. Size: 17 mm. Intact with deep reddish-brown color. ex-David Liebert, The Time Machine, NY. #AH2297: $750 SOLD
---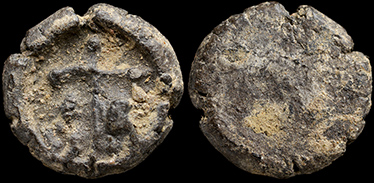 Holy Land. Token of the True Cross. Depicts the busts of Saints Peter and Paul either side of the True Cross. Size: 19.5 mm. Black color, earthen deposits. ex-Santa Barbara County, CA scholastic collection. #AH2313: $675 SOLD
---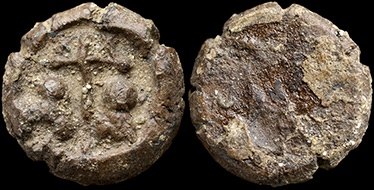 Holy Land. Token of the True Cross. Depicts the busts of Saints Peter and Paul either side of the True Cross. Size: 16 mm. Dark brown color, light earthen deposits. ex-Santa Barbara County, CA scholastic collection. #AH2314: $675 SOLD
---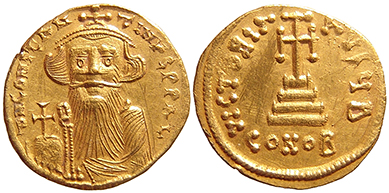 Byzantine Empire. Constans II, 641-668 AD. Stunning gold Solidus, Constantinople mint. His facing bust with long beard and moustache, wearing crown and chlamys, holding cross on globe, DN CONSTANTINUS PP AVG / The True Cross upon three steps, VICTORIA AVGU-B; mintmark CONOB. 20mm, 4.47 g. ref: SB-956. Choice EF details! Light scuff marks on reverse. ex-Matthew Jamgochian collection, Glendale, CA, purchased 2005.
Struck commemorating the triumphant return of the True Cross to Constantinople after being seized by the Persians.
#CB2262: SOLD
---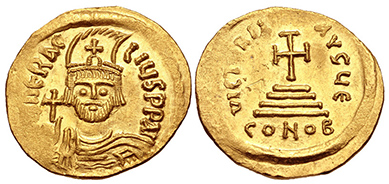 Byzantine Empire. Heraclius, 610-641 AD. Gorgeous gold solidus, Constantinople mint, 5th officina. Struck 610-613 AD. His draped and cuirassed facing bust, wearing plumed helmet, holding cross, dN hERACLIUS PP AV / Cross potent set on three steps; VICTORIA AVGU-Є, mintmark CONOB below. 21mm, 4.39 g. ref: DOC 3b; MIB 5; SB 731. EF, lustrous, some weakness of strike around the peripheries, "Δ" graffito on reverse. Ex-CNG. Beautiful example!
Struck commemorating the triumphant return of the True Cross to Constantinople after being seized by the Persians
#CB2273:
SOLD
---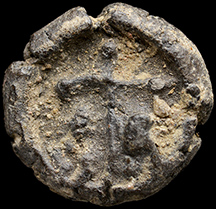 Holy Land. Token of the True Cross. Depicts the busts of Saints Peter and Paul either side of the True Cross. Size: 19.5 mm. Black color, earthen deposits. ex-Santa Barbara County, CA scholastic collection. #AH2313: $675 SOLD