Ancient Greece. Geometric Period, 8th Century BC
---
Ancient Greece, Geometric period. Bronze seal in the form of a water-bird upon a column. Amazing olive-green patina with fine linear and circular patterns. Pelta-shaped base for the original seal (lost in antiquity). Measures 51 mm (2 inches) tall and comes with custom wire stand. A stunning display piece! Base broken across one edge and expertly repaired. Ex-Royal Athena Galleries, New York. #RA-KPH36: $1250 SOLD.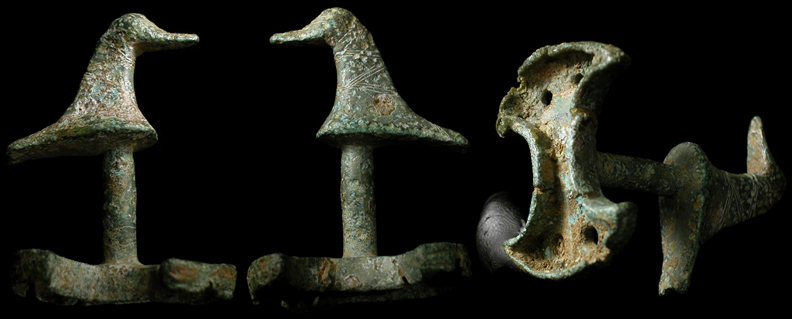 Every item comes with a
100% Lifetime Guarantee of Authenticity.
To make a purchase, or for more information, CLICK HERE
All contents (C) 2003-2023 AD. All rights reserved.
Owned, Operated, and Obsessed Upon by Gabriel Vandervort.
Reproduction without permission is prohibited.
Related search topics: ancient Geometric period Greek artifacts for sale, ancient Greek artifacts, Greek bronze water bird statue, high-end ancient Greek artifacts, ancient artifacts for sale Los Angeles