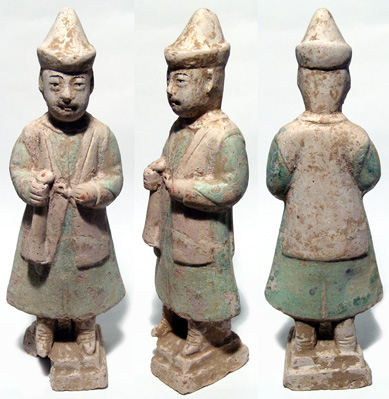 Chinese Ming Dynasty (1368-1644 AD).
Nice glazed and painted pottery figure.
Depicted standing, holding long bottle, wearing simple garments and cap. Nice remains of green glaze on coat. Also traces of red and black pigment on his hands and face. Part of base broken but still stands fine. Measures 260 mm (10 1/4 inches) tall! Very nice piece. #27109: $375 SOLD
---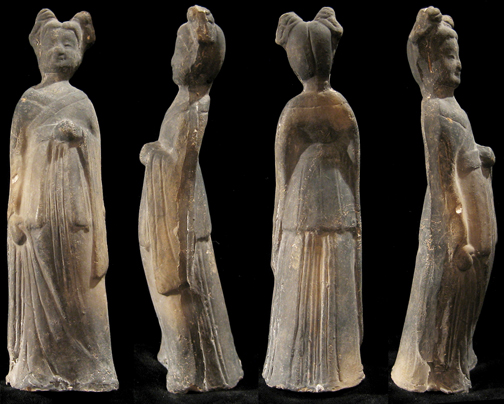 Chinese Wei Dynasty (386-535 AD) finely-detailed court attendant.
She has a pleasant smile, her held head back, with hair up in two buns. Her right arm hangs at her side, left arm held up with robes draped over. A gray pottery figure, in excellent with less than normal wear for its age. The figure measures 6.25" in height, 1.5" wide and 1.5" deep. #cs334: $275 SOLD
---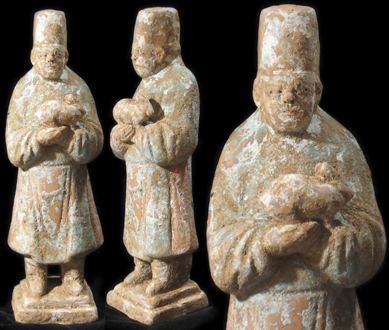 Chinese Ming Dynasty attendant, holding a rabbit.

A charming piece with lots of character. Nice blue, white, and red paint remains, as well as nicely detailed facial features. Measures 19 cm (7 1/2 inches) tall. #637: $299 SOLD
---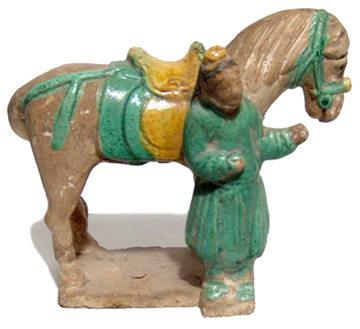 Chinese Ming Dynasty (1368-1644 AD). Funerary horse with groom. Extremely well-preserved with no repairs or restorations. Vibrant green and yellow color, light earthen deposits overall. W: 7", H: 6", DP: 3.5". ex-old East Coast USA estate collection. #AS2010: $799 SOLD
---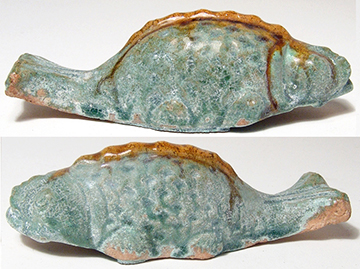 Ancient China. Ming Dynasty (1368-1644 AD). Large ceramic fish. Nicely preserved with expressive face and green, yellow and brown glaze. Light earthen deposits. L: 4 1/4" (11 cm). ex-Midwest USA scholastic collection. #AS2018: $175 SOLD