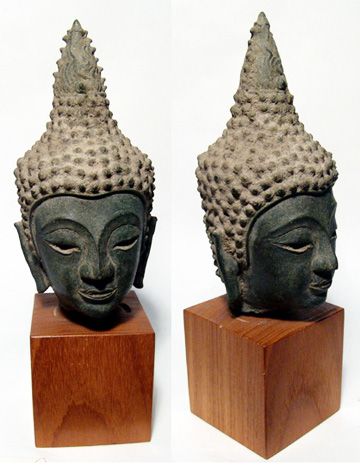 Sukhothai Period, Thailand, 15th Century AD.
Fantastic large bronze head of Buddha. With finely curled hair and serene expression with downward gaze. A flame is atop the ushnisha, which appeared on Buddhas of this period due to the influences of Sri Lankan monks. 6" (15.2 cm) tall. Mounted on base. Nice green patination and a handsome example! #0910219: SOLD
---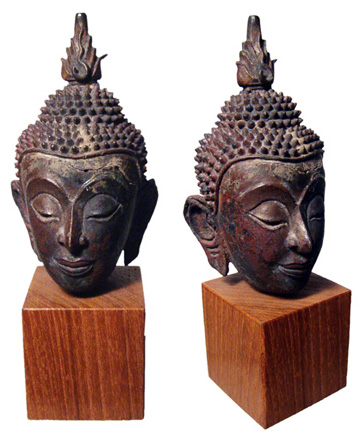 Ayutthaya Period, Thailand, 16th Century AD.
Excellent gilded bronze head of Buddha. With traces of gilding, A few age cracks on the side of the face. Extremely detailed and quite attractive! 4 1/8" (10.5 cm) tall. Mounted on base. Outstanding! #0910220: $675 SOLD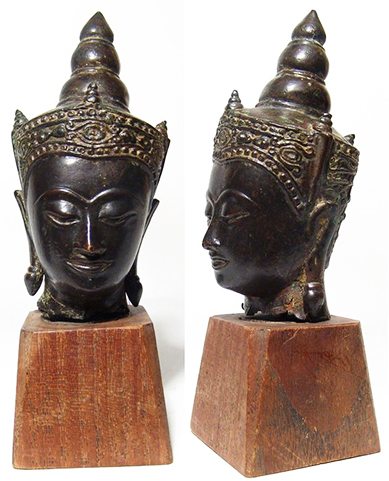 Excellent and large bronze head of Buddha from Thailand, c. 19th Century AD. From a large seated figure with three tiered ushnisha and soft, peaceful features. H: 5" (13.8 cm). Attractive patination, mounted to an antique wood base. Ex Los Angeles, CA private collection. A masterpiece! #AS2024: $450 SOLD